Industry: Staffing
Location: Schaumburg, IL
Furniture Collections Used: HON Initiate, Global Zira, Global Lux
NBF Account Executive: Jane Spotts
Earlier this year, NBF's own Chicagoland Account Manager, Jane Spotts, was tasked with the duty of turning a plain office space into a functional, attractive workplace. Corporate Resources of Illinois, a "best in class" staffing agency specializing in office support placement for temporary and permanent staffing, had outgrown its previous office. Fortunately for them, an opportunity opened up to move into a larger suite in the same building, and they jumped at the chance. Spotts teamed up with Corporate Resources founder and CEO Ingrid J. Moore as well as local Distinct Design interiors expert Jeanette Pierce to bring the new place to life. In the end, the company's makeover wish list was fulfilled with the right colors, the right layout, and, of course, the right furniture.
Warm & Welcoming Reception
First impressions are everything, and the ideal waiting room will leave guests with a positive view of a company. Knowing this, Spotts, Moore and Pierce got to work developing the right mood within the face of the company.
The large reception area was outfitted with chairs and loveseats from the Global Lux Collection, which features cushioned seats and backs upholstered in quality fabric to make visitors feel cozy and comfortable. The color palette was selected to provide a homelike feeling, and it features neutral beige upholsteries alongside cool blue tones for contrast. Blue is also incorporated into the area rug in the lounge area and in the accent wall behind the receptionist's desk.
In an effort to breathe some life into the space, plants were added on one end table and to the side of the reception desk. The reception desk, by the way, was reused from the company's previous office space, and matching pieces can be found throughout the rest of the office as well. Using the same collections of furniture throughout the entire suite creates a sense of unity despite the waiting room, cubicle area and private offices being closed off from one another.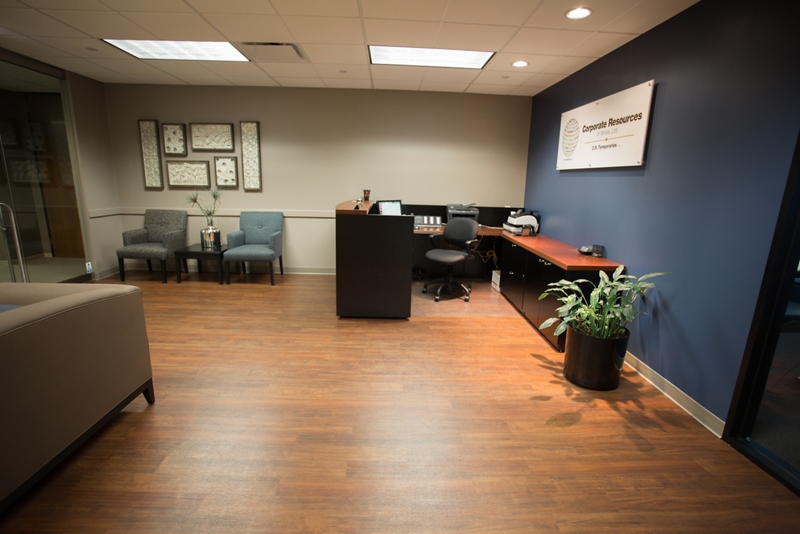 Privacy for All
In the main office area, modern day cubicles reign. As staffing experts, employees at Corporate Resources understand the importance of providing the right amount of privacy to every staff member, so Spotts and Moore were sure to provide everyone with their own space. Cubicles are made up of members of the HON Initiate Collection, while private offices for managers are outfitted with the same desks seen in the reception area. Glass whiteboards allow employees to jot down ideas at any given moment.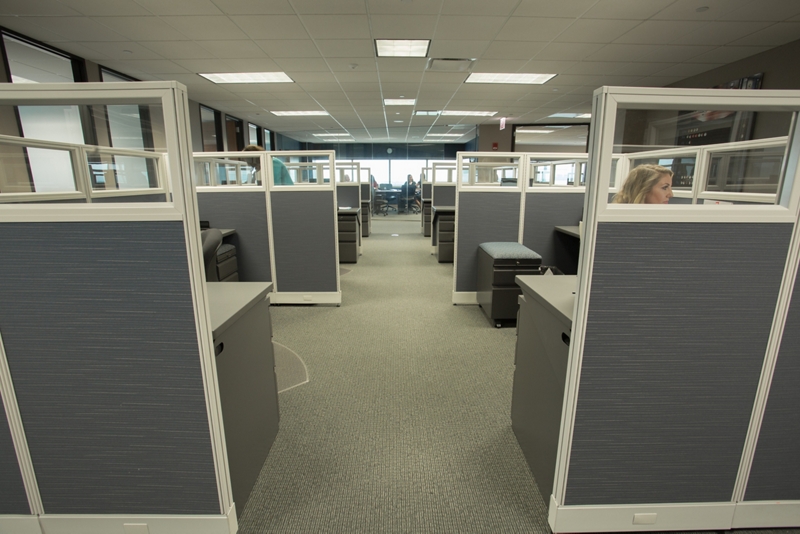 One private office belonging to Ingrid Moore got the special treatment that an executive office suite deserves. This large room features casegoods from Global's Zira Collection in Asian Night laminate along with a JSI Bairden sofa that makes for a great casual meeting space. Two HON mini cubes are also included to be used as seats or tables—whatever the occasion calls for!
Collaborative Conferencing
Although privacy is key to successful individual work, collaboration between team members is always required for a business to really thrive. That's why this design team opted for furniture that would encourage employees to engage in open discussions with one another whether in a formal conference setting or in a more casual atmosphere.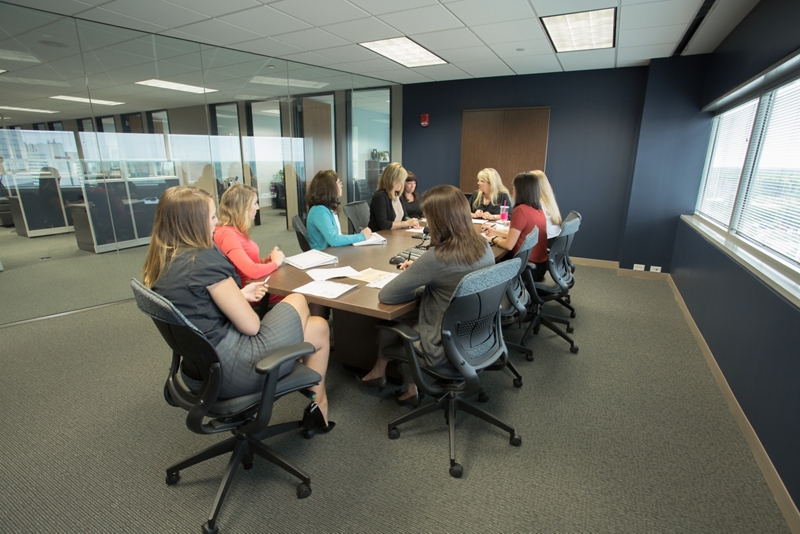 In the Corporate Resources main conference room, a conference table from Global's Zira Collection was added to accommodate the team's large, scheduled meetings. In the middle of all the cubicles, an additional HON Initiate panel configuration was added, but this "cubicle" includes two arm chairs and a small meeting table from Global's JEO Collection rather than employee workstations. This small area is used for holding interviews, which are frequent due to the nature of the staffing business. This particular Initiate panel system is equipped with a sliding door that provides added privacy as well as a sound barrier when interviews are taking place.
You'll notice small, mobile stools in between cubicles in the main office area. These are JSI Totem mobile pods, and they provide a convenient space for employees to gather for impromptu meetings to share ideas on the fly. Because the pods are small and mobile, they're a breeze to roll to any area of the office when needed.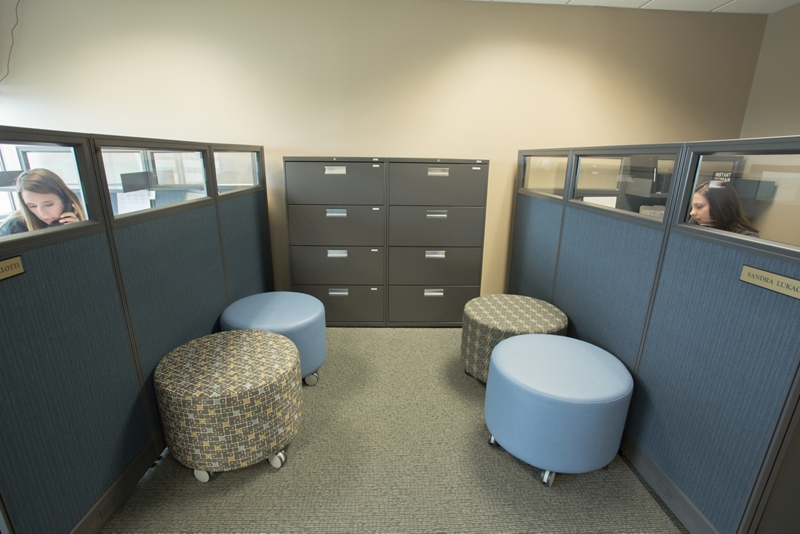 With the addition of calming, homelike features, coordinating furniture collections and a mix of private and collaborative spaces, the new Corporate Resources office space has been turned into a place where minds can meet and work can get done effectively. Once the office makeover was completed, CEO Moore had only positive things to say about the experience as a whole:
"Jane is resourceful, efficient and has wonderful follow up. During the selection and logistics process, when she had a different concept or idea, she would speak up, acting more as a trusted partner. When it came time to install, she would appear just to check and make sure all was going well. The day after the install, she emailed with a credit saying the install didn't take as long as was originally quoted, thus the cost was less. That was a nice surprise, and frankly the honesty was much appreciated. I would recommend Jane to anyone looking for professional office remodeling."