Federal and State Government Information
Do you have a GSA contract?
Yes, NBF holds a MAS Multiple Award Schedule Contract, GSA contract number GS-27F-0024V.
NBF's GSA contract covers thousands of products, ranging from desks, chairs and office suites, to insulated files and safes. All contract items receive NBF's GSA volume discounting. In stock items deliver within 2 weeks - some items even ship the SAME DAY!
To view our full offering of GSA Contract items, visit our GSA Schedule Items Category, or look for us on GSA Advantage! website and search "GS27F0024V". For your convenience, we accept all government credit cards.
Simply call our GSA specialists at 800-558-1010 to answer any questions or click here for additional information.
How do I identify GSA schedule items?
Just look for the GSA icon.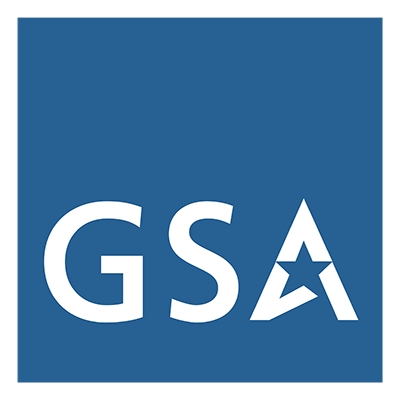 On the Item Page, it will be to the right of the item image.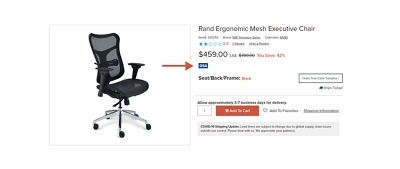 On the Category Page, it will be below the item image on color options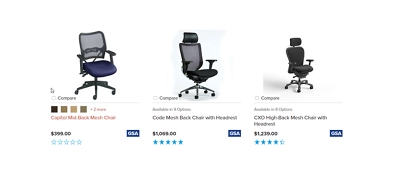 Limit search results to only display GSA items by using the GSA Search Filter:
From any product category page on NBF.com, when the FILTER BY option is displayed on the left side of the page:
Click MORE FILTERS, shown below the last filter displayed.
Click the GSA option from the list of filters
Select YES from the drop down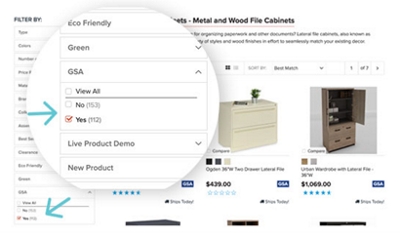 What are your applicable SIN numbers?
SIN 332999S Safes, Vault Systems, and Security Products
SIN 33712 Complete Daycare, Preschool and Classroom Solutions
SIN 337121H Household, Dormitory & Quarters Furniture
SIN 33721 Office Furniture
SIN 33721P Packaged Office Furniture
SIN NEW Introduction of New Supplies and Services
SIN OLM Order-Level Materials (OLM).
Do you have contracts available for State and Local Governments?
National Business Furniture participates in multiple cooperative purchasing programs: AEPA, BuyBoard and TIPS (The Interlocal Purchasing System). Click here for additional information.
National Business Furniture also holds a California Multiple Award Schedule (CMAS) contract. NBF's CMAS contract (4-10-71-0097B) offers a wide range of CMAS Approved office furniture. CMAS Contract items are identified with the GSA icon.
Can NBF meet set-aside requirements?
Yes, National Business Furniture partners with a network of small businesses to provide government buyers access to NBF product through dealers with preferred socioeconomic status.
Contact our Government Sales team for details: 800-558-1010 or [email protected]
NBF'S DEALER NETWORK INCLUDES
Small Businesses
Woman-Owned Small Businesses
Veteran-Owned Small Businesses
Service-Disabled Veteran-Owned Small Businesses
SBA Certified 8(a) Firms
SBA-Certified Small Disadvantaged Businesses
SBA-Certified HUBZone Firms
Various Blanket Purchases Agreements
Can NBF team multiple GSA schedules?
Yes. By utilizing Contractor Team Arrangements (CTAs), NBF is able to go beyond office furniture and provide a variety of office supplies, dorm quarters furniture, appliances and more. Call one of our designated GSA Specialists at 800-558-1010 or email today to learn more about our teaming partners.
Delivery Charges
NBF's advertised commercial and contract prices do not include delivery charges, which are prepaid and added as a line item to your quote/order. You may view online orders with delivered pricing when you SIGN IN as a GSA-eligible customer, or contact our government sales experts for assistance:
800-558-1010 or email [email protected]
NBF Capabilities Statements
Capabilities - Local Government
General Information National Business Furniture, LLC
770 South 70th Street
Milwaukee, WI 53214
Tax ID: 20-3851320
CAGE: 6P292
DUNS: 07-616-4771
UEI: JJJ2JY8TJRZ8
EFT Payment Contact: [email protected] or [email protected] / Laura Bensene (414)615-6349