Ready or not, millennial office employees are here to stay. Gone are the days of satisfying workers with compensation alone. The youngest generation of coworkers set their sights much higher, expecting not only decent pay, but benefits that will improve their overall quality of life both inside and outside of work. Among these—a beautiful office to call home. Here are a few design trends to consider adding to your office to keep millennials interested in your business and working at their full potential.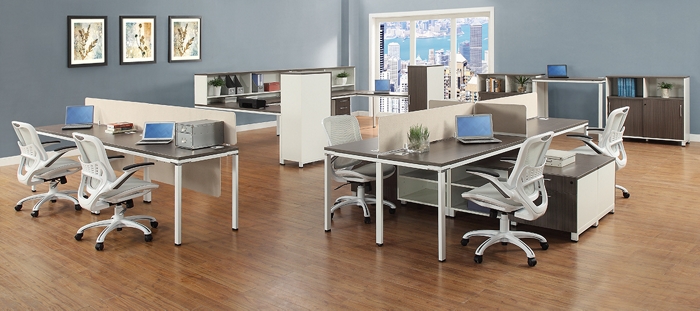 Workstations of Every Type
According to a 2017 study from IPSOS, 76% of millennials between the ages of 18 and 34 feel that office design and aesthetics somewhat or strongly influence their impression of a company. Although the first impression an individual will likely get in your office will be of your front lobby or waiting room, it's the workstations that provide the backdrop of what an employee will see for the vast majority of every day at the office. The way you design your office's workstations is hugely important, but be careful not to jump on the open concept bandwagon simply because you think it's what millennials want. Spoiler alert: it's not.
Although some employees thrive in a wall-less, collaborative desk space, no two workers are created equal. Introverts exist, and these types of workers need a little peace and quiet to get the job done. To accommodate employees of all personality types and job functions, incorporate a variety of different types of workspaces into your office. Maybe the marketing team needs to collaborate on a daily basis but the sales team needs privacy for taking customer calls. In this situation, try adding benching to the marketing area and call center desking or cubicles in sales. Even employees who work in an open concept situation will need privacy from time to time, so you may also want to add spaces around the office that are designated for quiet work.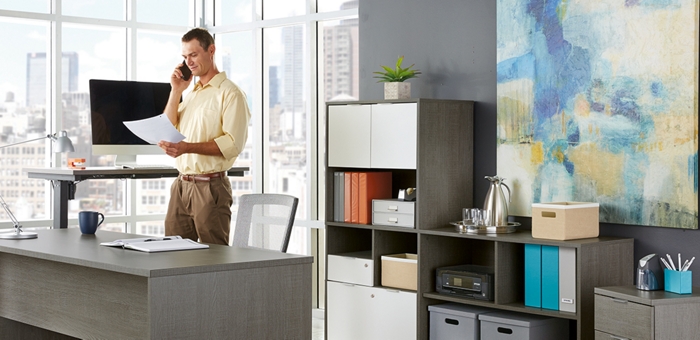 Ergonomic Furniture that Promotes an Active Workstyle
In addition to needing a space where they can work effectively, millennials want furniture that will foster a healthy lifestyle during business hours. The best step you can take toward this goal is to equip every workstation with an adjustable height desk. Can't afford to swap out your old desks with new ones? No problem. Adjustable height desk risers like the Ascent can be placed on top of any work surface and used in the same manner.
Once your employees have the option to sit or stand while they work, take it a step further by allowing them to stay active while they sit as well. If you're wondering how in the world you can both be sitting and staying active, we have the answer— actives stools and chairs. Ball chairs and perch stools are specially designed to allow employees to fidget and move while they sit, ensuring they aren't facing the negative health effects that come with sitting sedentary all day, every day. It's a perk that millennials have come to expect, but one which employees of all generations will surely appreciate.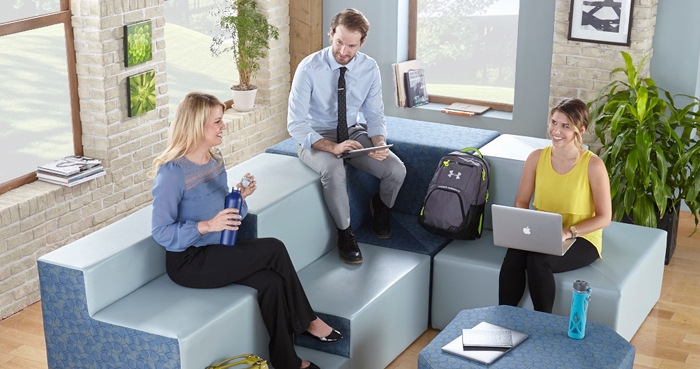 Collaborative Meeting Areas
Whether or not a collaborative workstation is appropriate for your employees will depend on the individual and his or her job function, but every office should include at least one collaborative "touchdown" area to foster teamwork between coworkers when new ideas arise. The idea behind these types of meeting spaces is that they're located in otherwise open, unused areas of the office and act as casual conference spaces wherein the area does not need to be booked ahead of time. This way, employees are still able to meet to share ideas even when all formal conference rooms are booked.
The same IPSOS study revealed that 70% of respondents who work in an office wish his or her workplace would consider a design upgrade, indicating a strong desire for an attractive, inspiring space to work. Adding a touchdown meeting area to your office is a simple way to achieve a modern, updated look and feel. These meeting areas require no moving, no building of new walls, and no extravagant budget. An open area and some comfortable furniture will do the trick.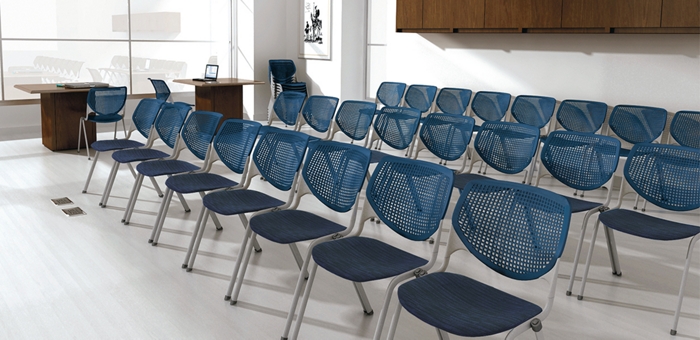 Breakrooms that Inspire
The breakroom is your employees' designated place for relaxation and peace, so make it count. From comfortable tables and chairs to inspiring décor, an inviting lunchroom is the key to making your employees feel at home, allowing them to recharge before the rest of their work day. Silicon Valley offices have given millennials high expectations when it comes to what the breakroom should really look like, so you'll want to create a space that's as beautiful as it is comfortable.
Have your own tips for attracting and retaining millennial employees in an office setting? Share your thoughts and opinions in the comments and keep reading to learn more about office design and its effect on the face of your business.