Industry: Creative Digital Media
Location: Austin, TX
NBF Account Executive: Rusty Jenkins
Furniture Collections Used: Trendway Trig, Choices & Live; National Office Furniture Cinch, Epic, Grin & Whimsy
In 2015, NBF account executive Rusty Jenkins got the call to outfit a brand new office in the heart of Austin, Texas for a digital advertising management company called Sizmek. The project, which you can read more about here, encompassed waiting areas, breakrooms, offices and conference rooms. Two years later, Sizmek made the decision to move into a new office building, and that meant it was time for some new furniture too.
Meeting Spaces of All Sizes
With hundreds of employees all needing to communicate with one another at any given moment, Sizmek holds a lot of meetings. As such, the company needed several conference spaces in a variety of sizes and styles to accommodate its many telecommuting and in-office team members. Like most businesses, Sizmek holds formal meetings in a large, private boardroom which they outfitted with a large conference table and enough chairs to seat up to 10 people.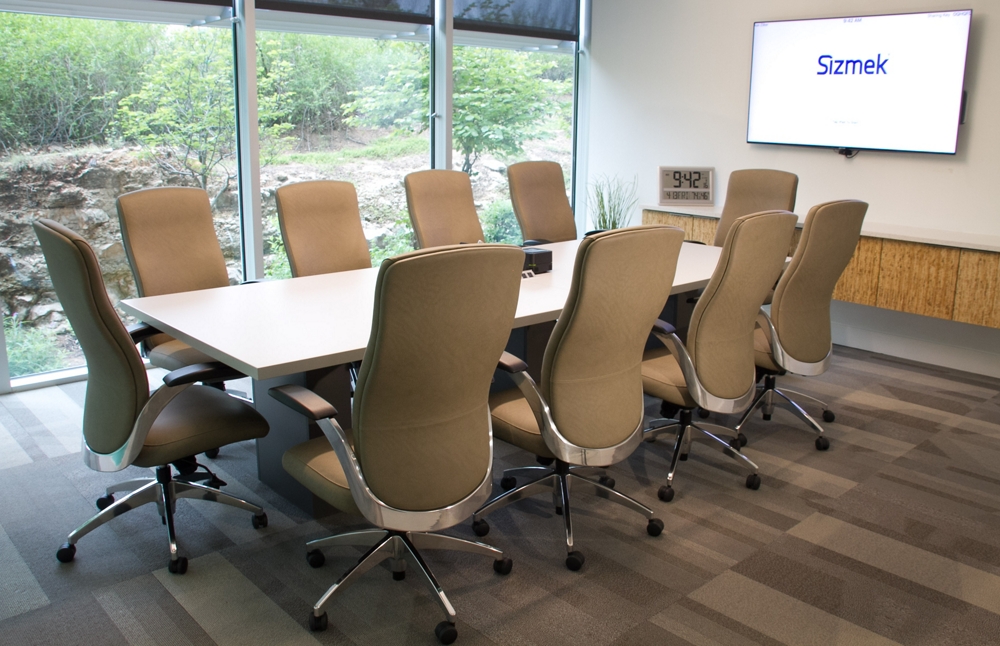 For teleconferencing, the company added multiple media tables, which include built-in charging capabilities hooked up to a monitor at the end of the table. Stools from National Office Furniture's Cinch collection allow everyone to choose between sitting and standing during the meeting.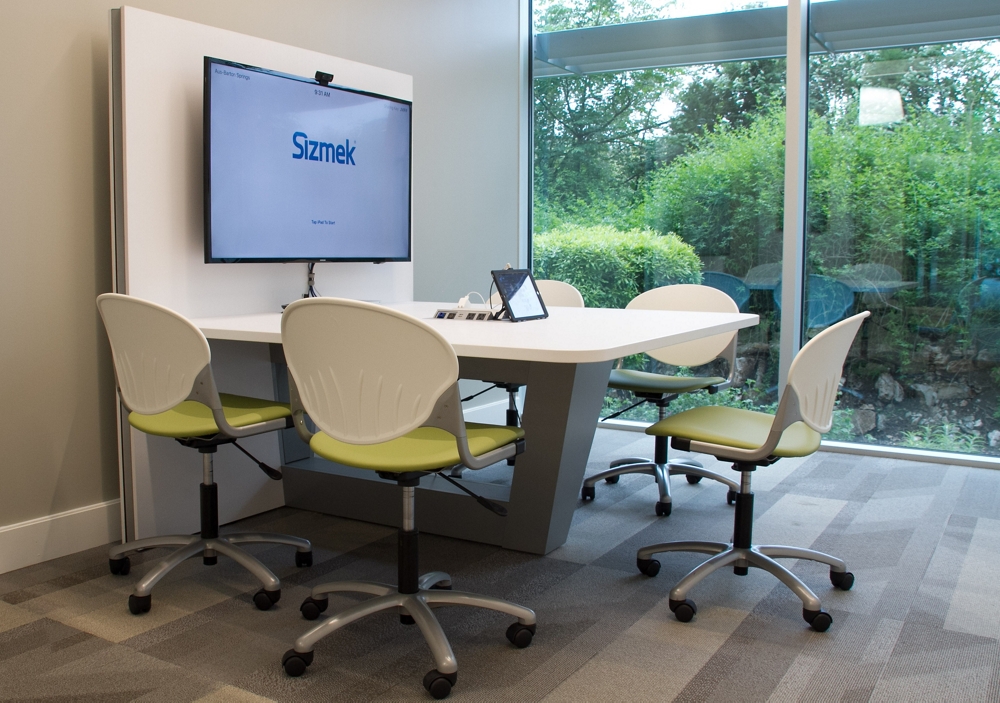 Casual meeting areas, sometimes known as "touchdown" spaces, encourage on-the-fly get togethers between co-workers. Sizmek added touchdown areas using a blend of soft seating and small tables scattered throughout the office. Employees can now get together when they need to without booking a conference room.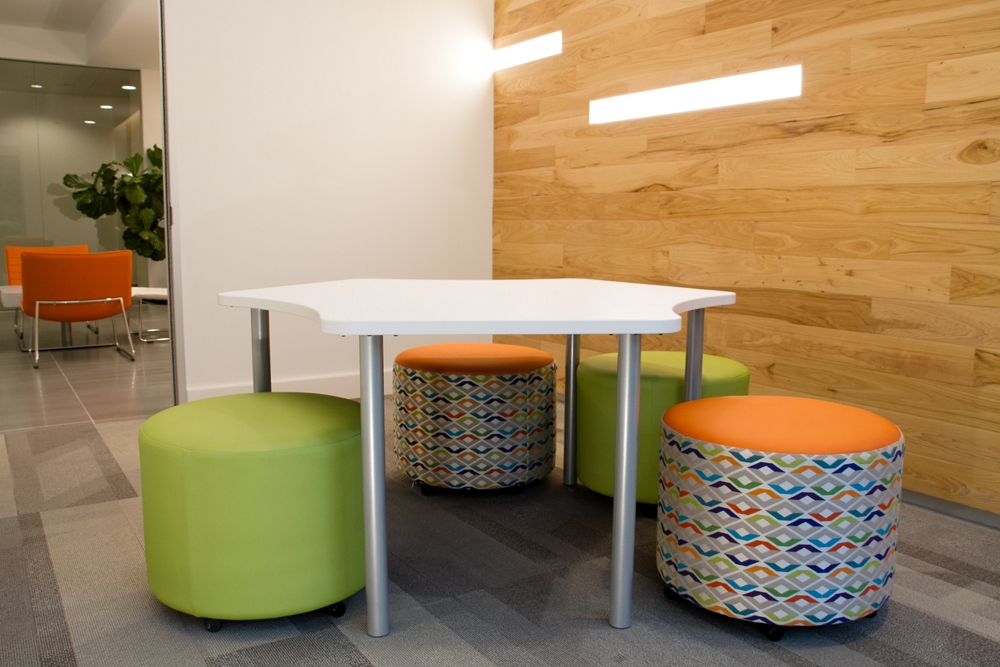 Private Offices That Impress
Private offices in the Sizmek office are outfitted in modern laminate desk lines paired with colorful guest chairs for a modern look. Floating hutches allow employees to store materials and personal items by utilizing wall space rather than taking up too much floor space. An ample work surface enables managers to work on their computer, hold meetings and organize paperwork all in one place.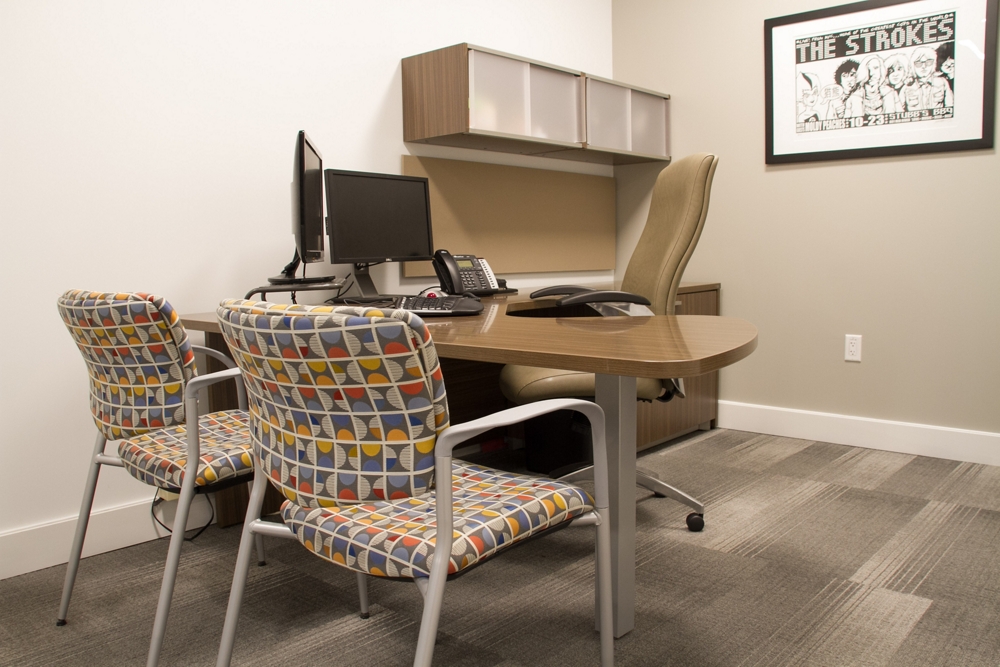 Collaborative Workstations with an Open Concept
Although the Sizmek office includes several private offices for management, it also features rows of open concept workstations that help foster collaboration between employees. Benching from Trendway's Trig and Choices collections provide just enough space for employees to work comfortably while saving major floor space and encouraging departments to work together.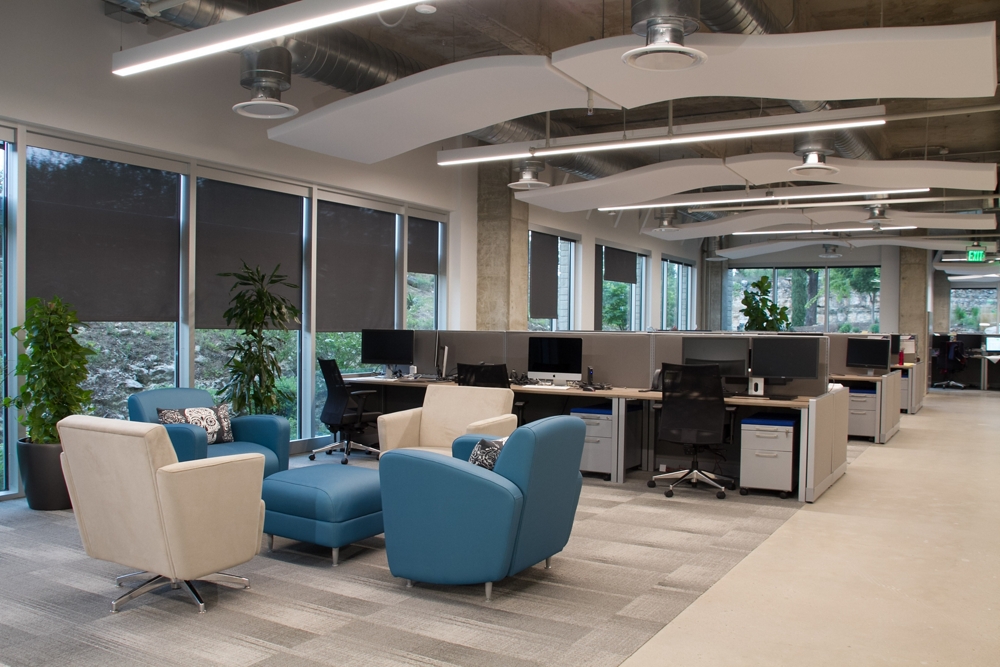 Relaxing Break Areas
Sizmek is one business that understands the importance of giving their employees a break. A formal breakroom provides plenty of space for employees to sit and relax while they eat lunch and watch some television. This space also doubles as an additional touchdown space, enabling employees to touch base while they grab some coffee or a bite to eat.
Other break areas keep it casual. One room even features lounge seating situated around a foosball table! With a whiteboard for score keeping and a TV for additional entertainment, this is a room that exudes relaxation. Don't let it fool you though-- rooms like this one can foster the best business ideas over a friendly game between co-workers.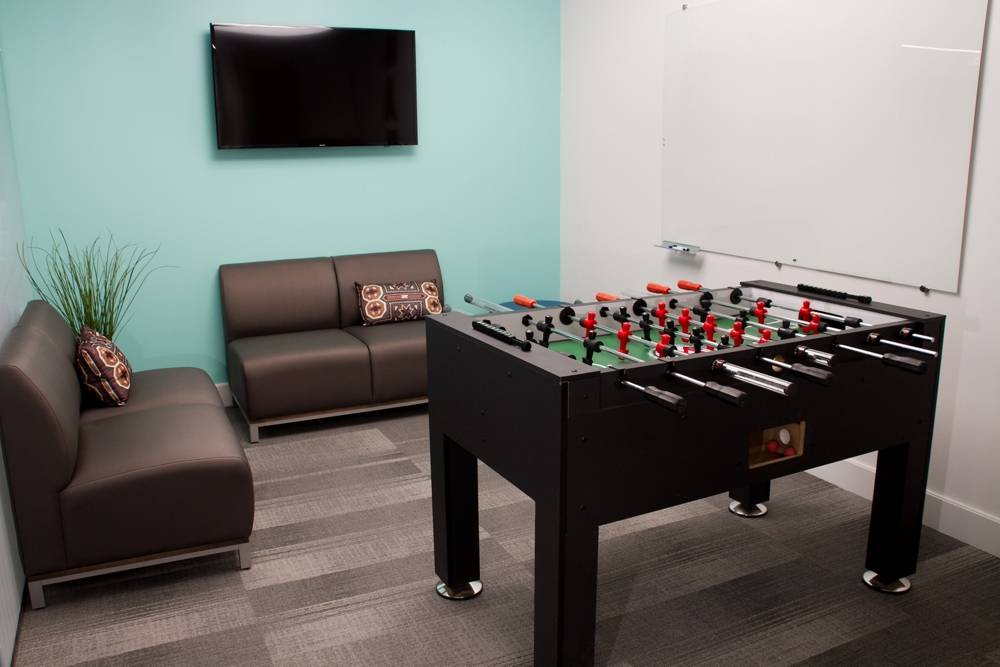 Lounge Seating for Comfortable Waiting
Comfort is the key to making an office feel like home. Lounge seating from National's Fringe collection adorn Sizmek's various waiting areas and open lounge spaces. By sticking with neutral desks, flooring and wall design, the office is truly able to pop in its choice of chair upholsteries.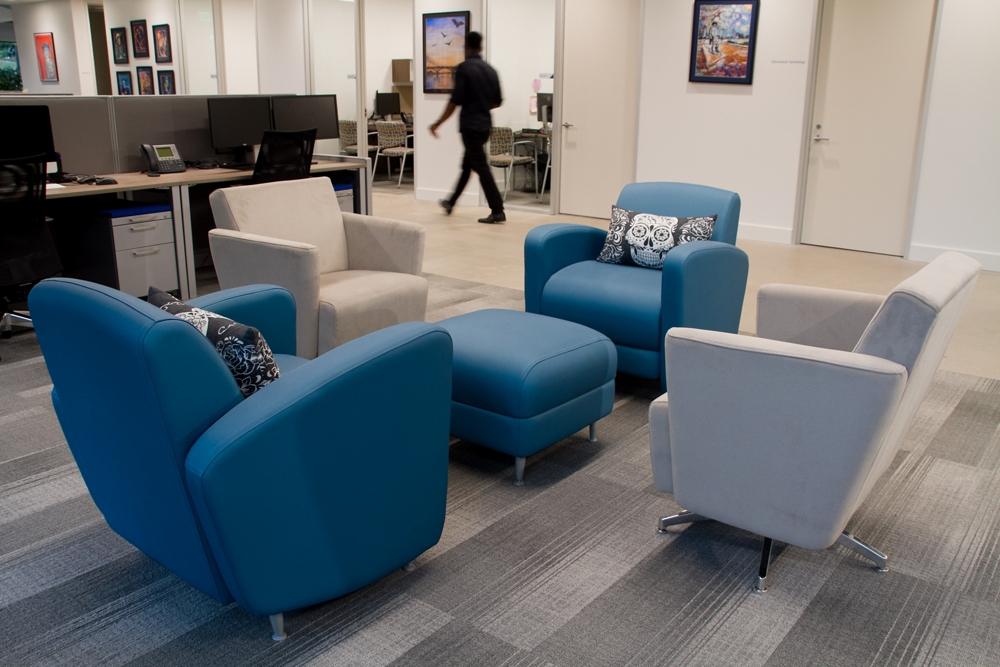 With a vibrant style and innovative office designs chosen to attract and retain millennial talent, Sizmek's new office is a reflection of its young, creative culture. To see more NBF case studies, visit our case study page or submit your office tour here.