Looking for new overbed tables for your healthcare facility? There's more to these little bed trays than you may think! From the shape of the base to the weight capacity, options vary based on the application for which the table will be used. Here's what you need to know.
Senior Living & Home Health Overbed Tables
Senior living and home health overbed tables are light duty and designed without any bells or whistles. The benefit to this type of overbed table is that they are the most inexpensive option; however, be aware that they are designed to be used with a regular bed, not a hospital bed. Most of these tables are adjustable in height but do not have much additional functionality. Color options are limited.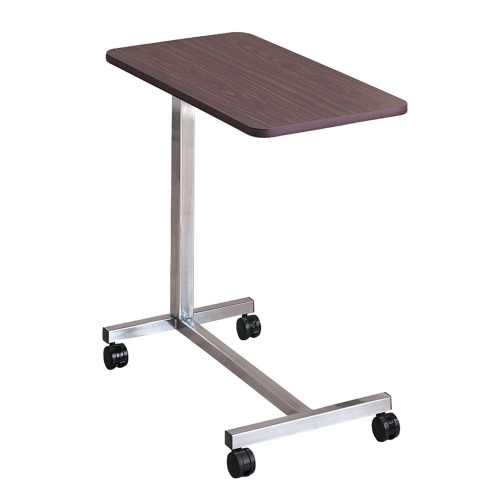 Tip: Senior living overbed tables usually do not include any accessories, so make sure your patients do not require any special features if you're thinking of this option.
Inpatient Overbed Tables
Inpatient overbed tables are designed for use in clinical and acute care facilities. Multiple base styles, including H-, U- and C-shaped bases, are available to ensure that the option you choose will be able to fit under and over your hospital beds. These options are more heavy duty than senior living tables, and they can usually support more than 100 pounds at a time. Many options are equipped to work with technology to perform duties such as rising and lowering at the same time as a hospital bed. Other features may include cup holders, spill guards and vanity kits. Sometimes drawers are provided for holding small items that the patient would like to keep nearby. Dual surface trays are also available to offer twice the surface space without taking up much additional room.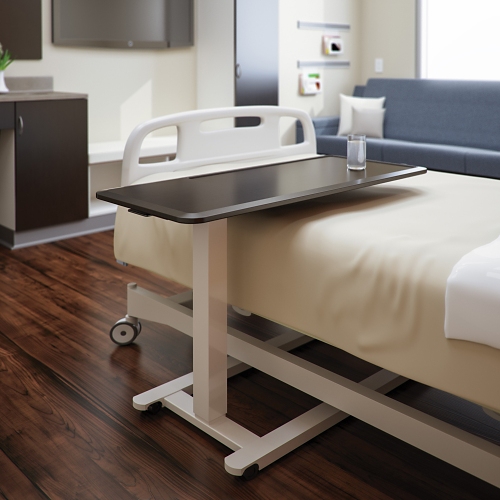 Tip: Make sure you know what type of base will fit best under your hospital beds before you start your search for overbed tables. Your tables won't work at all if they can't fit under the beds in your facility.
Bariatric Overbed Tables
Bariatric overbed tables are similar to Inpatient units in functionality and construction, but they are designed with an elongated table top in order to reach out to larger individuals lying in bed.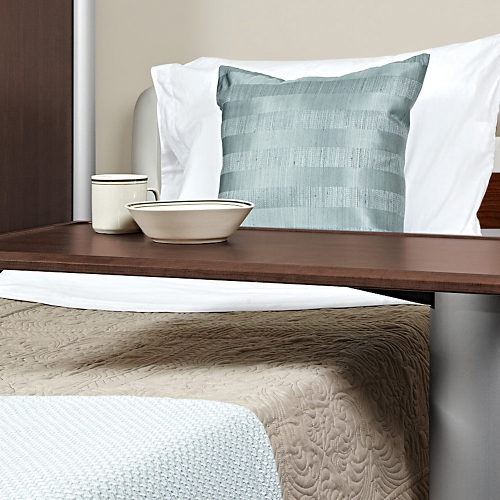 Tip: every clinical and acute care facility should have some bariatric overbed tables to ensure that every patient feels as comfortable as possible during their stay.
Want more information on what type of overbed table is best for your medical facility? Call our healthcare furniture experts today at (800) 558-1010 or shop our full selection of overbed tables here.