Outfitting an office on a budget takes a lot of research and careful planning in order to secure the best deal while still getting what your business really needs. If it's a beautiful breakroom you're after, you'll be happy to learn that there are plenty of affordable options to choose from that will still leave your lunchroom looking sharp and professional. Read on to learn a little more about our recommendations for achieving an expensive look for less in your office's breakroom.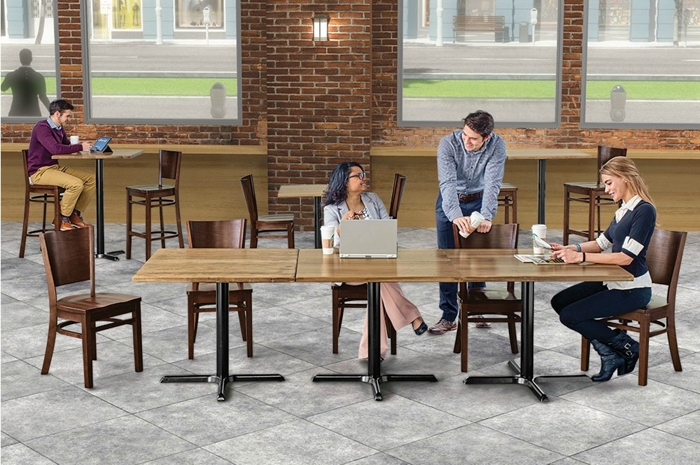 Coffeehouse Look for Less
If it's the warm, weathered charm of a coffee shop you're going for, look no further than the breakroom furniture in the Rustico collection. Chairs and stools in this assortment are constructed of solid wood, yet come with a price tag of less than $300 each. Matching tables with solid weathered wood tops create that coffee shop charm without breaking your budget, all coming in at under $500 each. Best of all, you've got multiple color options to choose from, so you can go dark and dramatic or keep it light and airy for the same price.
Want to complete the look? A little artwork can go a long way, and we recommend wood framed art prints or large-scale canvas art to create rustic drama in the space. A few real or faux plants throughout the space will tie in an organic element that will increase the visual appeal of the room and make employees feel a little more at home.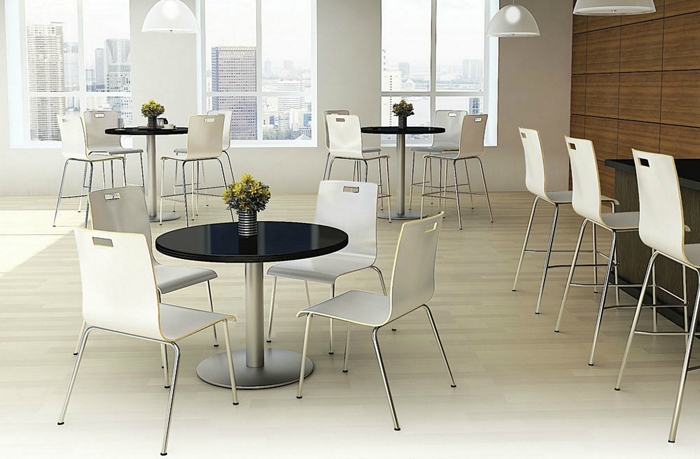 Minimalist Look for Less
Want something a little more modern? Clean lines and a minimalist aesthetic at a minimalist price point can be tricky to come by. Fortunately, the Barista collection comes equipped with the right office furniture to meet your needs. Chairs and stools at less than $250 each can be purchased with or without padded seats for comfort, and the coffee bean or vanilla bean wood back is just right for bringing a modern edge. Breakroom tables in a wide assortment of sizes all come in at less than $400 each, meaning you can create a complete table and chair set for less than $1000.
To incorporate an edgy, modern appeal throughout your breakroom, add chic throw pillows and area rugs to lounge areas and bold, abstract prints to the walls. A large statement clock or gallery wall is ideal for that large, blank wall you've been meaning to decorate.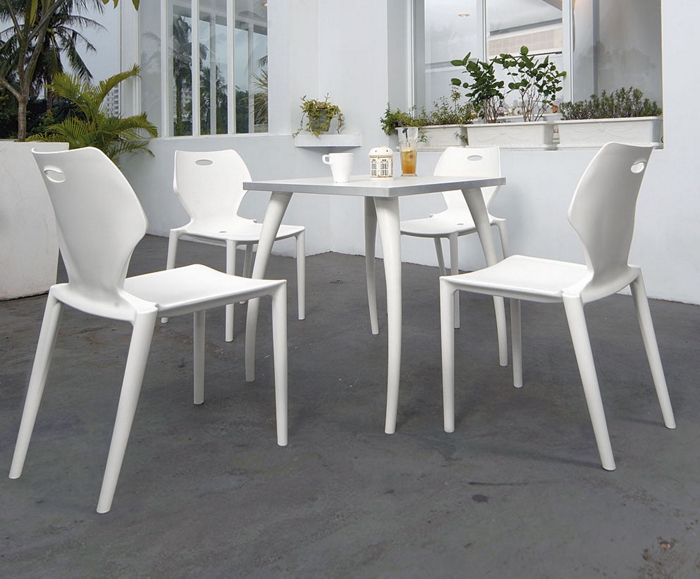 Outdoor Look for Less
Who doesn't love furniture that can go anywhere, any time? The best way to stretch your business dollar is by incorporating multi-purpose office furniture into your breakroom. The best way to do this? Consider indoor/outdoor tables and chairs from the Ion collection that can do double duty any time of year. These tables and chairs can be used either indoors or outdoors, so you won't need separate pieces of furniture for the different areas of the office. Simply move the breakroom furniture outside when the weather is nice, and then back in when employees would rather not venture out. Most importantly, the chair and table that make up the Ion collection are priced well enough for nearly any budget.
Décor will differ depending on the indoor or outdoor application, but we do recommend incorporating greenery into both spaces. The right landscaping on your office's outdoor patio can create an upscale look on a small budget, and incorporating faux plants in your indoor breakroom will give employees a glimpse of greenery even when they don't want to go outside.
For more tips on getting the look for less, read all of our office breakroom articles and shop our full assortment of breakroom furniture here.