Office chairs can cause serious damage to carpets over time, and certain types of carpeting can make rolling around your workspace quite difficult. For these reasons, a chair mat is necessary, but not just any chair mat will do. Standard mats are made to be used on hard flooring, and this type of matting will slip and slide around when used over carpet. The solution? Low pile chair mats with grips for carpet.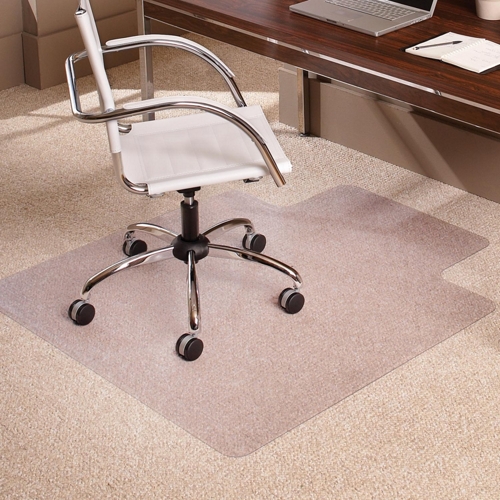 Makes Your Workspace More Functional
Everlife low pile chair mats from E.S. Robbins feature an Anchor Bar cleat system which secures the mat to your low pile carpeting, preventing it from sliding while you move your chair over it. A Crystal Edge provides a smooth and easy transition from the chair mat to your carpet, and a fitted lip allows you to continue to roll smoothly all the way up to your desk.
Protects Your Carpet
While the Anchor Bar cleat system grips to your carpeting, it also protects it. Grips are gentle on carpet, digging into place without damaging the fibers. The cleats are also gentle on your fingers, making repositioning the mat easy as can be.
Doesn't Distract from the Look of Your Office
Constructed of clear vinyl, the Everlife chair mats blend in seamlessly with offices of any style, unlike many other mats which can be an eyesore. In addition, these mats are guaranteed by the manufacturer to resist cracking when used correctly.
Need help finding the best office chair mat for carpet? Peruse our full selection of workspace chair mats or call our furniture experts at (800) 558-1010.