New Castle Designer Upholstery Three Seater with Center Arms
New Castle Designer Upholstery Three Seater with Center Arms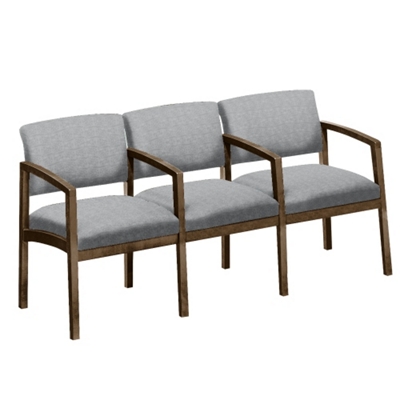 contemporary designer upholstery three seater with center arms is constructed with a durable solid maple frame.

The New Castle three seater features Matrex seat suspension for long term comfort. Solid wood frame has a five-step hand-rubbed finish. Available in fabric or anti-microbial vinyl.

Assembly required.
Your delivery charge will be calculated at checkout.
This item ships in 1 carton.
See delivery times below.
This product ships via UPS or FedEx and will be brought inside your building. If you require additional services, please call
800-558-1010
.
| | | |
| --- | --- | --- |
| Color/Finish Option | | Delivery Time |
| Gypsum Vinyl/Medium Frame | | 2-4 weeks |
| Steel Blue Vinyl/Cherry Frame | | 2-4 weeks |
| Cobblestone Vinyl/Cherry Frame | | 2-4 weeks |
| Cobblestone Vinyl/Mahogany Frame | | 2-4 weeks |
| Ice Blue Vinyl/Mahogany Frame | | 2-4 weeks |
| Blue Jade Vinyl/Mahogany Frame | | 2-4 weeks |
| Wineberry Vinyl/Walnut Frame | | 2-4 weeks |
| Gypsum Vinyl/Natural Frame | | 2-4 weeks |
| Steel Blue Vinyl/Medium Frame | | 2-4 weeks |
| Cobblestone Vinyl/Medium Frame | | 2-4 weeks |
| Ice Blue Vinyl/Cherry Frame | | 2-4 weeks |
| Blue Jade Vinyl/Cherry Frame | | 2-4 weeks |
| Wineberry Vinyl/Cherry Frame | | 2-4 weeks |
| Wineberry Vinyl/Mahogany Frame | | 2-4 weeks |
| Gypsum Vinyl/Walnut Frame | | 2-4 weeks |
| Steel Blue Vinyl/Walnut Frame | | 2-4 weeks |
| Steel Blue Vinyl/Natural Frame | | 2-4 weeks |
| Cobblestone Vinyl/Natural Frame | | 2-4 weeks |
| Ice Blue Vinyl/Medium Frame | | 2-4 weeks |
| Blue Jade Vinyl/Walnut Frame | | 2-4 weeks |
| Blue Jade Vinyl/Natural Frame | | 2-4 weeks |
| Wineberry Vinyl/Natural Frame | | 2-4 weeks |
| Gypsum Vinyl/Cherry Frame | | 2-4 weeks |
| Gypsum Vinyl/Mahogany Frame | | 2-4 weeks |
| Steel Blue Vinyl/Mahogany Frame | | 2-4 weeks |
| Cobblestone Vinyl/Walnut Frame | | 2-4 weeks |
| Ice Blue Vinyl/Walnut Frame | | 2-4 weeks |
| Ice Blue Vinyl/Natural Frame | | 2-4 weeks |
| Blue Jade Vinyl/Medium Frame | | 2-4 weeks |
| Wineberry Vinyl/Medium Frame | | 2-4 weeks |
| Black Polyurethane/Cherry Frame | | 2-4 weeks |
| Black Polyurethane/Natural Frame | | 2-4 weeks |
| Black Polyurethane/Walnut Frame | | 2-4 weeks |
| Black Polyurethane/Mahogany Frame | | 2-4 weeks |
| Cordovan Polyurethane/Cherry Frame | | 2-4 weeks |
| Cordovan Polyurethane/Medium Frame | | 2-4 weeks |
| Cordovan Polyurethane/Natural Frame | | 2-4 weeks |
| Cordovan Polyurethane/Walnut Frame | | 2-4 weeks |
| Cordovan Polyurethane/Mahogany Frame | | 2-4 weeks |
| Graphite Polyurethane/Cherry Frame | | 2-4 weeks |
| Graphite Polyurethane/Medium Frame | | 2-4 weeks |
| Graphite Polyurethane/Natural Frame | | 2-4 weeks |
| Graphite Polyurethane/Walnut Frame | | 2-4 weeks |
| Sage Polyurethane/Cherry Frame | | 2-4 weeks |
| Sage Dillon Polyurethane/Medium Frame | | 2-4 weeks |
| Sage Polyurethane/Natural Frame | | 2-4 weeks |
| Sage Dillon Polyurethane/Walnut Frame | | 2-4 weeks |
| Sage Polyurethane/Mahogany Frame | | 2-4 weeks |
| Williamsburg Polyurethane/Cherry Frame | | 2-4 weeks |
| Williamsburg Polyurethane/Medium Frame | | 2-4 weeks |
| Williamsburg Polyurethane/Natural Frame | | 2-4 weeks |
| Williamsburg Polyurethane/Walnut Frame | | 2-4 weeks |
| Williamsburg Polyurethane/Mahogany Frame | | 2-4 weeks |
| Buff Polyurethane/Cherry Frame | | 2-4 weeks |
| Buff Polyurethane/Medium Frame | | 2-4 weeks |
| Buff Polyurethane/Natural Frame | | 2-4 weeks |
| Buff Polyurethane/Walnut Frame | | 2-4 weeks |
| Buff Polyurethane/Mahogany Frame | | 2-4 weeks |
| Caliente Fabric/Cherry Frame | | 2-4 weeks |
| Caliente Fabric/Walnut Frame | | 2-4 weeks |
| Caliente Fabric/Medium Frame | | 2-4 weeks |
| Caliente Fabric/Mahogany Frame | | 2-4 weeks |
| Caliente Fabric/Natural Frame | | 2-4 weeks |
| Gray Flannel Fabric/Cherry Frame | | 2-4 weeks |
| Gray Flannel Fabric/Walnut Frame | | 2-4 weeks |
| Gray Flannel Fabric/Medium Frame | | 2-4 weeks |
| Gray Flannel Fabric/Mahogany Frame | | 2-4 weeks |
| Gray Flannel Fabric/Natural Frame | | 2-4 weeks |
| Golden Fabric/Cherry Frame | | 2-4 weeks |
| Golden Fabric/Walnut Frame | | 2-4 weeks |
| Golden Fabric/Medium Frame | | 2-4 weeks |
| Golden Fabric/Mahogany Frame | | 2-4 weeks |
| Golden Fabric/Natural Frame | | 2-4 weeks |
| Midnight Sky Fabric/Cherry Frame | | 4-6 weeks |
| Midnight Sky Fabric/Walnut Frame | | 4-6 weeks |
| Midnight Sky Fabric/Medium Frame | | 4-6 weeks |
| Midnight Sky Fabric/Mahogany Frame | | 4-6 weeks |
| Midnight Sky Fabric/Natural Frame | | 4-6 weeks |
| Nocturnal Fabric/Cherry Frame | | 2-4 weeks |
| Nocturnal Fabric/Walnut Frame | | 2-4 weeks |
| Nocturnal Fabric/Medium Frame | | 2-4 weeks |
| Nocturnal Fabric/Mahogany Frame | | 2-4 weeks |
| Nocturnal Fabric/Natural Frame | | 2-4 weeks |
| Peppercorn Fabric/Walnut Frame | | 2-4 weeks |
| Peppercorn Fabric/Medium Frame | | 2-4 weeks |
| Peppercorn Fabric/Mahogany Frame | | 2-4 weeks |
| Peppercorn Fabric/Natural Frame | | 2-4 weeks |
Dimensions: 65"Wx25"Dx31.5"H
Seat Dimensions: 62"Wx17.5"D
Weight: 66.00 lbs.
SIN#: 33721
Carton Dimensions: