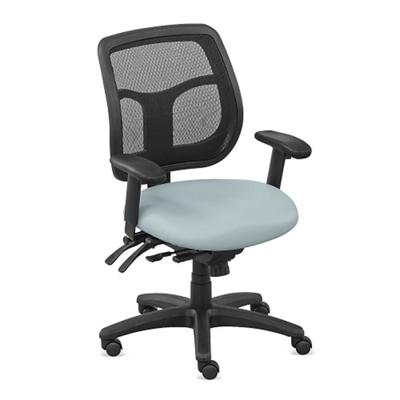 Upgrade your seating to the Textile Series chair and enjoy comfort and customized upholstery with a myriad of fabric and polyurethane options!
Mesh Task Chair is designed with a breathable mesh back and matching fabric seat, and is a smart choice for any office.
The chair offers many ergonomic features including a synchro tilt backrest, tilt tension control and adjustable seat and back height adjustment. The armrest's height and width are adjustable for increased flexibility. Seat height adjusts from 18" - 21.5" high.
Ships ready to assemble. Chair is custom upholstered and non-returnable.

This product has been Greenguard certified to support better indoor air quality for offices, homes, schools and healthcare facilities. Products that are Greenguard certified are regularly tested to ensure that their chemical and particle emissions meet acceptable pollutant standards.
Delivery
Dimensions
Features
Your delivery charge will be calculated at checkout.
This item ships in 1 carton.
See delivery times below.
Up to 8 items will ship by UPS or FedEx Ground. 9 or more items will ship by Truck.
UPS and FedEx deliveries will be brought inside your building. If you require additional services, please call 800-558-1010
Items that are shipped via Truck will require someone at your location to take the products off the tailgate. If you need inside delivery, please call us at 800-558-1010 or type a message in the shipping instructions/order comments area during checkout. Additional charges may apply for extra delivery services.
Delivery details will be indicated on your order acknowledgment.
| | | |
| --- | --- | --- |
| Color/Finish Option | | Delivery Time |
| Lake Critics Choice Fabric Seat/Black Mesh Back/Black Frame | | 1-2 weeks |
| Tabby Cat Critics Choice Fabric Seat/Black Mesh Back/Black Frame | | 1-2 weeks |
| Tussah Critics Choice Fabric Seat/Black Mesh Back/Black Frame | | 1-2 weeks |
| Cocoa Critics Choice Fabric Seat/Black Mesh Back/Black Frame | | 1-2 weeks |
| Silver Critics Choice Fabric Seat/Black Mesh Back/Black Frame | | 1-2 weeks |
| Sprout Critics Choice Fabric Seat/Black Mesh Back/Black Frame | | 1-2 weeks |
| Raspberry Critics Choice Fabric Seat/Black Mesh Back/Black Frame | | 1-2 weeks |
| Cinder Critics Choice Fabric Seat/Black Mesh Back/Black Frame | | 1-2 weeks |
| Iron Critics Choice Fabric Seat/Black Mesh Back/Black Frame | | 1-2 weeks |
| Bermuda Montgomery Fabric Seat/Black Mesh Back/Black Frame | | 1-2 weeks |
| Midnight Montgomery Fabric Seat/Black Mesh Back/Black Frame | | 1-2 weeks |
| Cocoa Montgomery Fabric Seat/Black Mesh Back/Black Frame | | 1-2 weeks |
| Taffy Montgomery Fabric Seat/Black Mesh Back/Black Frame | | 1-2 weeks |
| Mushroom Montgomery Fabric Seat/Black Mesh Back/Black Frame | | 1-2 weeks |
| Grape Montgomery Fabric Seat/Black Mesh Back/Black Frame | | 1-2 weeks |
| Lime Montgomery Fabric Seat/Black Mesh Back/Black Frame | | 1-2 weeks |
| Iron Montgomery Fabric Seat/Black Mesh Back/Black Frame | | 1-2 weeks |
| Sterling Montgomery Fabric Seat/Black Mesh Back/Black Frame | | 1-2 weeks |
| Melon Montgomery Fabric Seat/Black Mesh Back/Black Frame | | 1-2 weeks |
| Red Pepper Montgomery Fabric Seat/Black Mesh Back/Black Frame | | 1-2 weeks |
| Black Montgomery Fabric Seat/Black Mesh Back/Black Frame | | 1-2 weeks |
| Tide Pool Ridgecrest Fabric Seat/Black Mesh Back/Black Frame | | 1-2 weeks |
| Midnight Ridgecrest Fabric Seat/Black Mesh Back/Black Frame | | 1-2 weeks |
| Sterling Ridgecrest Fabric Seat/Black Mesh Back/Black Frame | | 1-2 weeks |
| Taupe Ridgecrest Fabric Seat/Black Mesh Back/Black Frame | | 1-2 weeks |
| Putty Ridgecrest Fabric Seat/Black Mesh Back/Black Frame | | 1-2 weeks |
| Mink Ridgecrest Fabric Seat/Black Mesh Back/Black Frame | | 1-2 weeks |
| Chocolate Ridgecrest Fabric Seat/Black Mesh Back/Black Frame | | 1-2 weeks |
| Beach Ridgecrest Fabric Seat/Black Mesh Back/Black Frame | | 1-2 weeks |
| Meadow Ridgecrest Fabric Seat/Black Mesh Back/Black Frame | | 2-4 weeks |
| Ruby Ridgecrest Fabric Seat/Black Mesh Back/Black Frame | | 1-2 weeks |
| Bittersweet Ridgecrest Fabric Seat/Black Mesh Back/Black Frame | | 1-2 weeks |
| Ink Ridgecrest Seat/Black Mesh Back/Black Frame | | 1-2 weeks |
| Pueblo Palance Fabric Seat/Black Mesh Back/Black Frame | | 1-2 weeks |
| Silt Palance Fabric Seat/Black Mesh Back/Black Frame | | 1-2 weeks |
| Chestnut Palance Fabric Seat/Black Mesh Back/Black Frame | | 1-2 weeks |
| Thicket Palance Fabric Seat/Black Mesh Back/Black Fabric | | 1-2 weeks |
| Sable Palance Fabric Seat/Black Mesh Back/Black Frame | | 1-2 weeks |
| Steel Palance Fabric Seat/Black Mesh Back/Black Frame | | 1-2 weeks |
| Blue Jay Bunny Hop Fabric Seat/Black Mesh Back/Black Frame | | 1-2 weeks |
| Teal Bunny Hop Fabric Seat/Black Mesh Back/Black Frame | | 1-2 weeks |
| Gold Bunny Hop Fabric Seat/Black Mesh Back/Black Frame | | 1-2 weeks |
| Cypress Bunny Hop Fabric Seat/Black Mesh Back/Black Frame | | 1-2 weeks |
| Fern Bunny Hop Fabric Seat/Black Mesh Back/Black Frame | | 1-2 weeks |
| Evergreen Bunny Hop Fabric Seat/Black Mesh Back/Black Frame | | 1-2 weeks |
| Chrome Bunny Hop Fabric Seat/Black Mesh Back/Black Frame | | 1-2 weeks |
| Crabapple Bunny Hop Fabric Seat/Black Mesh Back/Black Frame | | 1-2 weeks |
| Leather Bunny Hop Fabric Seat/Black Mesh Back/Black Frame | | 1-2 weeks |
| Cerulean Venue Fabric Seat/Black Mesh Back/Black Frame | | 1-2 weeks |
| Waterlily Venue Fabric Seat/Black Mesh Back/Black Frame | | 1-2 weeks |
| Hemp Venue Fabric Seat/Black Mesh Back/Black Frame | | 1-2 weeks |
| Cashmere Venue Fabric Seat/Black Mesh Back/Black Frame | | 1-2 weeks |
| Truffle Venue Fabric Seat/Black Mesh Back/Black Frame | | 1-2 weeks |
| Cocoa Venue Fabric Seat/Black Mesh Back/Black Frame | | 1-2 weeks |
| Harvest Venue Fabric Seat/Black Mesh Back/Black Frame | | 1-2 weeks |
| Cornsilk Venue Fabric Seat/Black Mesh Back/Black Frame | | 1-2 weeks |
| Clay Venue Fabric Seat/Black Mesh Back/Black Frame | | 1-2 weeks |
| Mulberry Venue Fabric Seat/Black Mesh Back/Black Frame | | 1-2 weeks |
| Pompeii Venue Fabric Seat/Black Mesh Back/Black Frame | | 1-2 weeks |
| Granite Venue Fabric Seat/Black Mesh Back/Black Frame | | 1-2 weeks |
| Admiral Fandango Fabric Seat/Black Mesh Back/Black Frame | | 1-2 weeks |
| Brass Fandango Fabric Seat/Black Mesh Back/Black Frame | | 1-2 weeks |
| Amber Fandango Fabric Seat/Black Mesh Back/Black Frame | | 1-2 weeks |
| Cocoa Fandango Fabric Seat/Black Mesh Back/Black Frame | | 1-2 weeks |
| Bluegrass Fandango Fabric Seat/Black Mesh Back/Black Frame | | 1-2 weeks |
| Ash Fandango Fabric Seat/Black Mesh Back/Black Frame | | 1-2 weeks |
| Copper Fandango Fabric Seat/Black Mesh Back/Black Frame | | 1-2 weeks |
| Apple Fandango Fabric Seat/Black Mesh Back/Black Frame | | 1-2 weeks |
| Russet Fandango Fabric Seat/Black Mesh Back/Black Frame | | 1-2 weeks |
| Ebony Fandango Fabric Seat/Black Mesh Back/Black Frame | | 1-2 weeks |
| Blue Gavotte Fabric Seat/Black Mesh Back/Black Frame | | 1-2 weeks |
| Taupe Gavotte Fabric Seat/Black Mesh Back/Black Frame | | 1-2 weeks |
| Gray Gavotte Fabric Seat/Black Mesh Back/Black Frame | | 1-2 weeks |
| Burgundy Gavotte Fabric Seat/Black Mesh Back/Black Frame | | 1-2 weeks |
| Indigo Fine Tune Fabric Seat/Black Mesh Back/Black Frame | | 1-2 weeks |
| Luna Fine Tune Fabric Seat/Black Mesh Back/Black Frame | | 1-2 weeks |
| Wheat Fine Tune Fabric Seat/Black Mesh Back/Black Frame | | 1-2 weeks |
| Cocoa Fine Tune Fabric Seat/Black Mesh Back/Black Frame | | 1-2 weeks |
| Herb Fine Tune Fabric Seat/Black Mesh Back/Black Frame | | 1-2 weeks |
| Ash Fine Tune Fabric Seat/Black Mesh Back/Black Frame | | 1-2 weeks |
| Tangelo Fine Tune Fabric Seat/Black Mesh Back/Black Frame | | 1-2 weeks |
| Ruby Fine Tune Fabric Seat/Black Mesh Back/Black Frame | | 1-2 weeks |
| Onyx Fine Tune Fabric Seat/Black Mesh Back/Black Frame | | 1-2 weeks |
| Briarwood Bravo PVC Free Vinyl Seat/Black Mesh Back/Black Frame | | 1-2 weeks |
| Mushroom Bravo PVC Free Vinyl Seat/Black Mesh Back/Black Frame | | 1-2 weeks |
| Cognac Bravo PVC Free Vinyl Seat/Black Mesh Back/Black Frame | | 1-2 weeks |
| Mahogany Bravo PVC Free Vinyl Seat/Black Mesh Back/Black Frame | | 1-2 weeks |
| Mesquite Bravo PVC Free Vinyl Seat/Black Mesh Back/Black Frame | | 1-2 weeks |
| Portabella Bravo PVC Free Vinyl Seat/Black Mesh Back/Black Frame | | 1-2 weeks |
| Dove Cantina Polyurethane Seat/Black Mesh Back/Black Frame | | 1-2 weeks |
| Taupe Cantina Polyurethane Seat/Black Mesh Back/Black Frame | | 1-2 weeks |
| Putty Cantina Polyurethane Seat/Black Mesh Back/Black Frame | | 1-2 weeks |
| Molasses Cantina Polyurethane Seat/Black Mesh Back/Black Frame | | 1-2 weeks |
| Peanut Cantina Polyurethane Seat/Black Mesh Back/Black Frame | | 1-2 weeks |
| Chili Cantina Polyurethane Seat/Black Mesh Back/Black Frame | | 1-2 weeks |
| Saddle Cantina Polyurethane Seat/Black Mesh Back/Black Frame | | 1-2 weeks |
| Cocoa Cantina Polyurethane Seat/Black Mesh Back/Black Frame | | 1-2 weeks |
| Cranberry Cantina Polyurethane Seat/Black Mesh Back/Black Frame | | 1-2 weeks |
| Quarry Cantina Polyurethane Seat/Black Mesh Back/Black Frame | | 1-2 weeks |
| Magnetite Cantina Polyurethane Seat/Black Mesh Back/Black Frame | | 1-2 weeks |
| Black Cantina Polyurethane Seat/Black Mesh Back/Black Frame | | 1-2 weeks |
| River Dot Com Polyurethane Seat/Black Mesh Back/Black Frame | | 1-2 weeks |
| White Dot Com Polyurethane Seat/Black Mesh Back/Black Frame | | 1-2 weeks |
| Platinum Dot Com Polyurethane Seat/Black Mesh Back/Black Frame | | 1-2 weeks |
| Nude Dot Com Polyurethane Seat/Black Mesh Back/Black Frame | | 1-2 weeks |
| Lawn Dot Com Polyurethane Seat/Black Mesh Back/Black Frame | | 1-2 weeks |
| Honey Dot Com Polyurethane Seat/Black Mesh Back/Black Frame | | 1-2 weeks |
| Gray Dot Com Polyurethane Seat/Black Mesh Back/Black Frame | | 1-2 weeks |
| Fawn Dot Com Polyurethane Seat/Black Mesh Back/Black Frame | | 1-2 weeks |
| Cola Dot Com Polyurethane Seat/Black Mesh Back/Black Frame | | 1-2 weeks |
| Coin Dot Com Polyurethane Seat/Black Mesh Back/Black Frame | | 1-2 weeks |
| Clay Dot Com Polyurethane Seat/Black Mesh Back/Black Frame | | 1-2 weeks |
| Cinnabar Dot Com Polyurethane Seat/Black Mesh Back/Black Frame | | 1-2 weeks |
| Black Dot Com Polyurethane Seat/Black Mesh Back/Black Frame | | 1-2 weeks |
| Batik Dot Com Polyurethane Seat/Black Mesh Back/Black Frame | | 1-2 weeks |
Dimensions: 26"Wx20"Dx36-40.5"H
Seat Dimensions: 21"Wx20"Dx19-23"H
Weight: 54.00 lbs.
SIN#: 33721
Carton Dimensions:
Adjustable Seat Height
Adjustable Back Height
Adjustable Arm Height
Adjustable Arm Width
Tilt Tension Control
Synchro Tilt Mechanism
Tilt Lock
Ratchet back