Industry: Water Equipment Services
Location: Milwaukee, WI
NBF Sales Executive: Anna Reedy
Furniture Collections Used: NBF Signature Series Lancaster, Emery Park Highland, Lesro Contemporary, NBF Signature Series Solutions, Chairs from Eurotech Seating
Reliable Water Services, a company that rents and services commercial water heaters in the states of Wisconsin and Indiana, recently experienced a growth phase that required it to move to a location that would better suit staff needs. When president and CEO Todd Dziwulski moved the business to its new location in Milwaukee, he had a list of wants and needs to meet for the space. Fortunately for him, NBF Account Executive Anna Reedy was ready and eager to help him get the job done.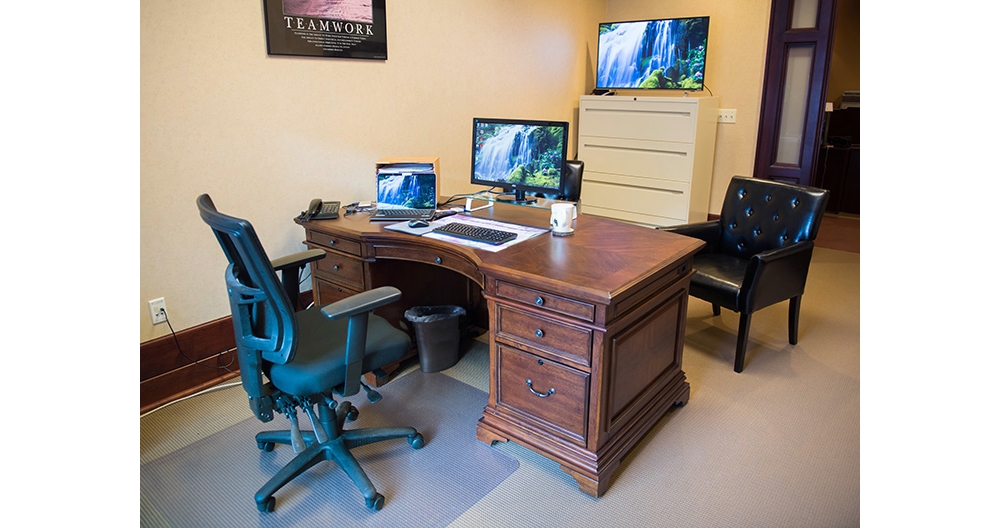 Traditional Style for a Professional Look
The new office space had formerly been occupied by a law firm and, as a result, featured a traditional look that included dark wood and muted tones on the walls. To match the existing structure and avoid having to do a complete overhaul of the interior design, Reliable Water Services opted for furniture with a traditional appeal. Desks from the Emery Park Highland collection feature a truly traditional appearance complete with crown molding and picture frame details, while employee workstations from the Solutions collection come in a similar color but with a more streamlined, simple look. Add in button tufted guest chairs along with supportive mesh office chairs and Reliable Water Services has itself a well-coordinated office that they can be proud to show off.
Enough Storage to Go Around
Not only did employees working in the office want a well-coordinated look in the space, but they also needed furniture that would be as functional as it is beautiful. The solution? Desks, credenzas and cabinets packed with storage. In fact, Dziwulski identifies his new credenza as the once piece of furniture he couldn't live without.
"I didn't have one before, so I didn't know if it was necessary or not. Now that I have it, I am so much more organized and am able to hide my printer when it isn't in use. My printer is an eye sore, but a necessity. Now the visual can't bother me."
He went on to say that the company as a whole has benefited from the increase in storage. Everyone loves that they have their own lockable two-drawer lateral file that they can call their own. These make the perfect tools for storing personal items or proprietary company info without having to put everything in a shared file cabinet.
Free Space Planning Services
Not only was Reliable Water Services happy with the end result of their new office redesign, but they were also pleasantly surprised to experience the ease of NBF's complimentary space planning services. Reedy arranged for the office to be measured and for one of NBF's in-house designers to create a floor plan that suited Dziwulski's vision. After all, outfitting such a large commercial space can be quite the undertaking. With employee productivity to consider and room dimension constraints to work around, having an expert do the work for you saves time and money that can be better spent serving Reliable Water Services's customers.
Dziwulski was pleased from start to finish, saying, "Throughout the whole process, NBF and Anna Reedy have been great! We were able to walk through the showroom to give her a sense of what we were looking for. Pairing that with some pictures of our new office, she pointed us in the right direction to ensure that we would be happy with the final design."
Want to share your office style? Fill out an office tour form and check out our full collection of NBF office tours here.