In October of 2016 we held our second annual Veterans Day Office Giveaway contest wherein we asked US veterans from across the country to send us a photo of their current office along with the story of why they could use an office makeover. After receiving 70 submissions we asked you to vote, and after almost 1000 votes we named Karen LeeAnn Fox, founder of Women Veterans of the Coastal Bend, as our 2016 grand prize winner. Want to see what Karen LeeAnn did with her winnings? Read on to find out.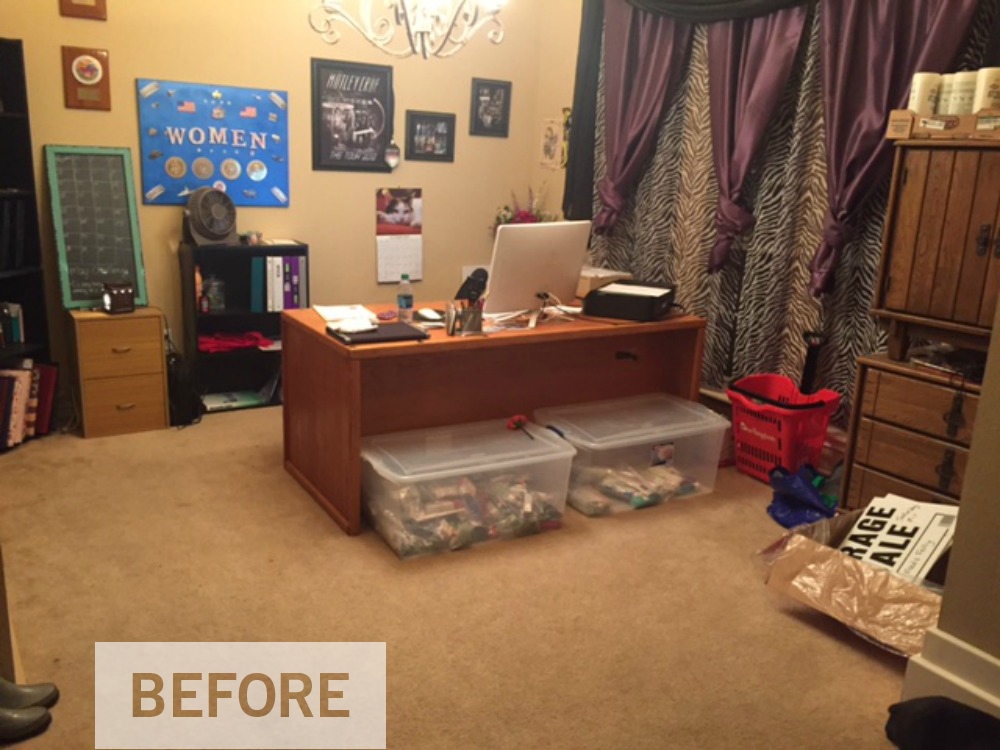 Karen LeeAnn's Story
Karen LeeAnn was medically retired in 2011 after 18 years of service. After her retirement, she struggled to get on her feet and nearly became homeless. During that time, she noticed a huge disconnect in veterans services, and especially in those geared toward helping women veterans. To help solve this disconnect, Karen LeeAnn founded the group Women Veterans of the Coastal Bend in Corpus Christi, Texas. What started with 36 women veterans has since grown to over 400 in less than two years. Thus, Karen LeeAnn was able to leave her job with the Red Cross to focus on furthering the organization's mission—to reduce female veteran homelessness and to connect women veterans to resources and a network of other women veterans.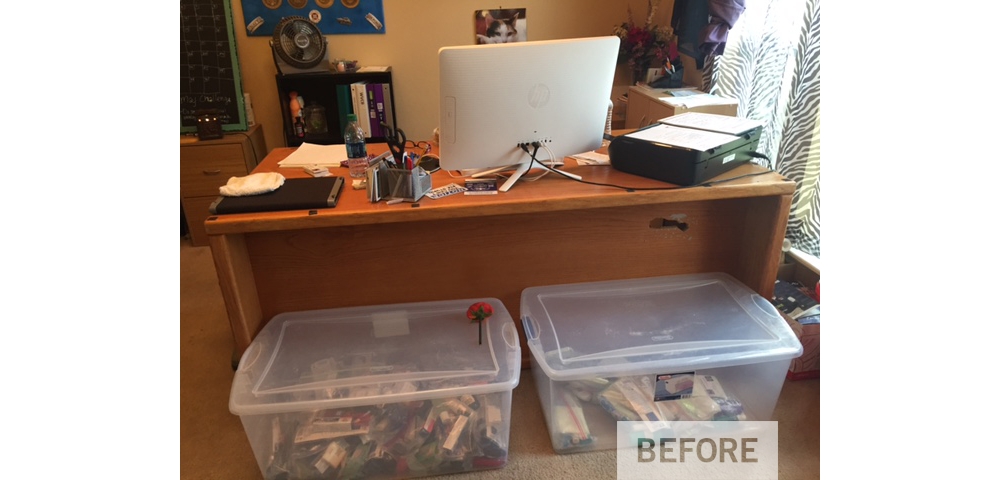 Karen LeeAnn's Office
Karen LeeAnn's office resides in her own residence, and she's had to get creative in furnishing her home office. Most of her office furniture was purchased at yard sales or picked up on the side of the road in an effort to save money wherever possible. LeeAnn's home office also serves the function of a pantry which includes hygiene items, toiletries, school supplies (for single mother veterans) and food items. In her contest submission, Fox told NBF that, "It would be really nice to have functional office furniture to enable me to work in a more efficient manner and serve more female veterans in my community." Fortunately for her, America agreed!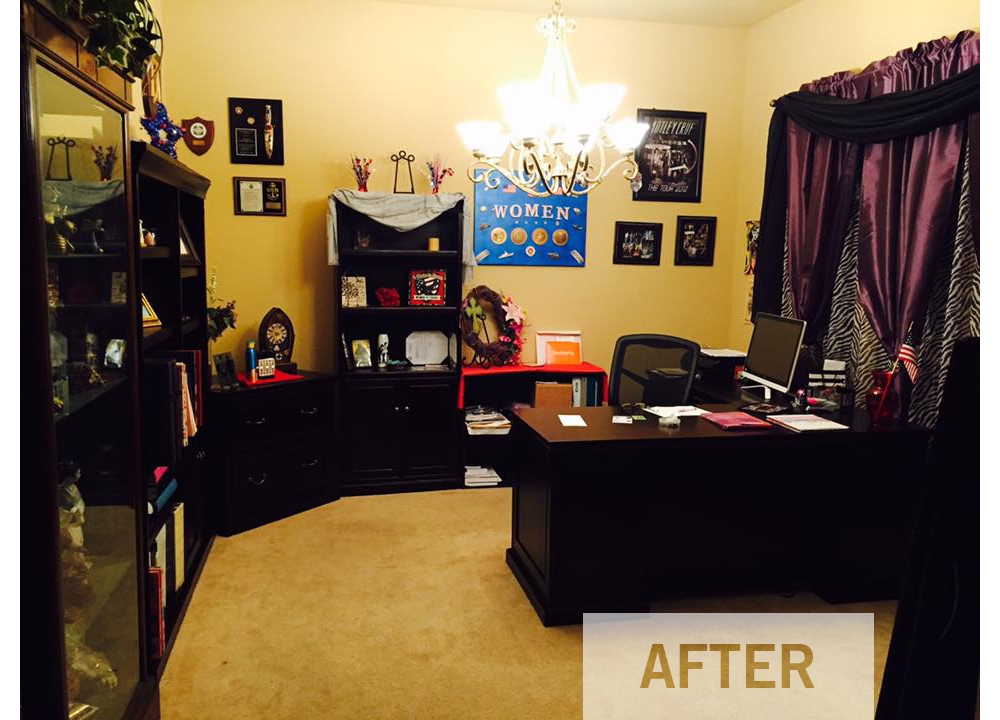 Karen LeeAnn's Office Makeover
After Karen LeeAnn was informed of her win, she wasted no time in working with NBF to pick out the perfect furniture for her home office. A new desk, bookcase set and lateral filing cabinet came in the form of the dark and dramatic Fulton collection by Kathy Ireland and Martin. This matching set is made of wood veneer and solid hardwoods in an espresso finish that gives Karen LeeAnn's office a truly professional look. Of course, looks aren't everything, and she wanted to be able to work comfortably as well. That's where the ProLine Pro Grid high back mesh chair from Office Star comes in. This mesh back chair is cool and comfortable and comes with tons of ergonomic adjustments to keep Karen LeeAnn working both in style and support.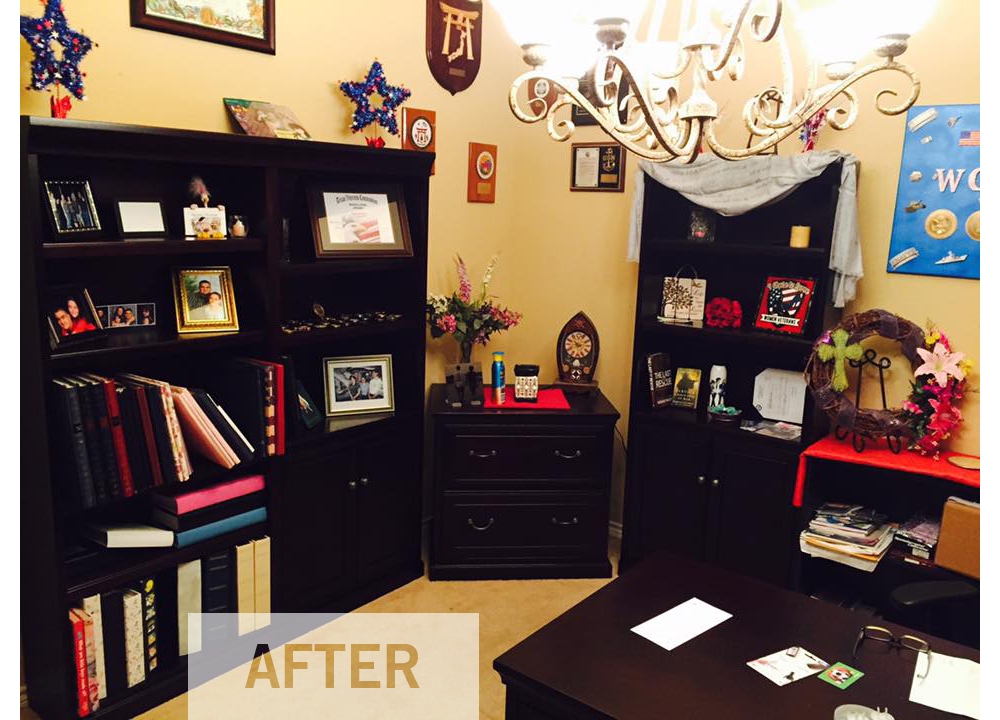 On behalf of everyone at National Business Furniture, thank you Karen LeeAnn for your brave service to our country, and thank you for continuing to serve United States citizens through helping other women veterans find new life in this world. We hope you love your new office—you deserve it!