How can you make a home office with a view of the canal on Florida's Intracoastal Waterway any better? The right furniture doesn't hurt! Finding the right office furniture to suit her eclectic space was the challenge Michelle faced when designing her Floridian home office. Here's how she pulled it all together to create a workspace that feels like home.
Furniture that Wows
Michelle has a modern and eclectic home, so she wanted the look of her office to coordinate well with the flow of the rest of the house. To accomplish this, she went with a complete set from the NBF Signature Series At Work collection. The At Work L-Desk Office Suite includes an L-shaped desk, two lateral files with hutches, a table, a mobile filing pedestal, a mobile storage pedestal and a small bookcase—all in an espresso laminate finish with contrasting brushed nickel framework. Not only does the matching furniture look well-coordinated together, but it also works well with Michelle's modern space.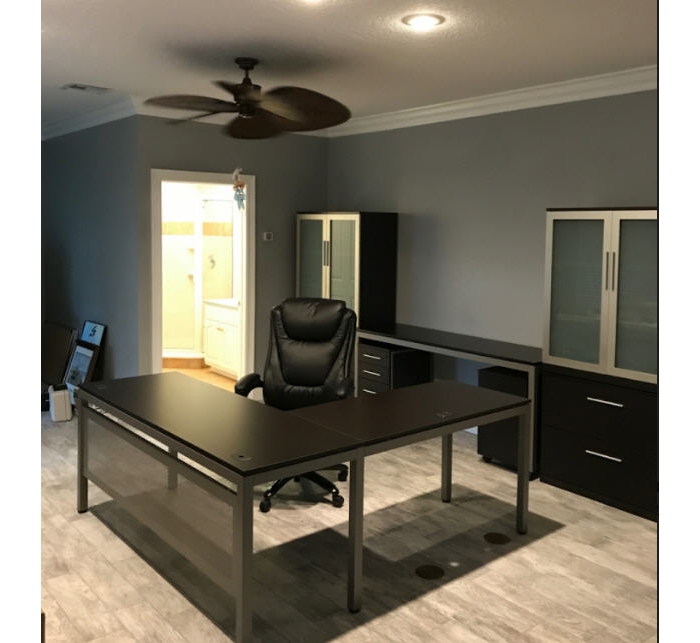 Furniture that Works
Although a crisp, modern look makes Michelle proud to work in her beautiful office, a workspace is nothing without the functionality to make work easier. Michelle works in the online education and consulting industry, so she needed a workspace that would be able to accommodate her demanding daily tasks. Between the two lateral files and the mobile filing pedestal, there's plenty of filing space to go around. Hutches on top of the lateral files provide space for storing supplies, and a mobile storage pedestal is easy to move around the office as needed. Most of all, Michelle loves her large L-desk and says, "It allows me to see multiple screens at the same time." Based on the number of monitors Michelle works with, you can see why that feature would be important to her! A table between the two lateral files acts as an additional work surface for Michelle to spread out paperwork and visualize the day's tasks.
Like Michelle's modern marvel office? Get inspired by all of our office tours and submit your own office tour here.