A mechanical systems and fire protection union contractor, Grunau is headquartered in the Greater Milwaukee area, not far from the place National Business Furniture calls home. Just as Grunau seeks to understand their customers' vision in every project that they do, so NBF sought to understand Grunau's vision in our recent project with the company lead by NBF Account Executive Anna Reedy. Read on to find out what Grunau wanted out of this redesigned workspace and how Reedy helped them achieve it.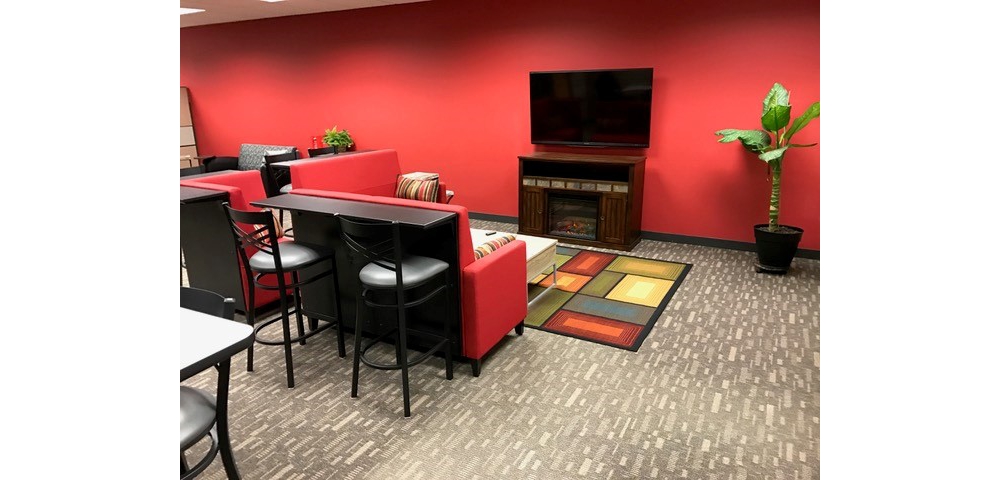 Collaborative & Comfortable
First and foremost, it was of the utmost importance to Grunau that this open concept space be made to encourage collaboration between employees. This was incorporated via comfortable lounge seating configured in a living room-like setting which now allows employees to gather together and chat in a casual manner. Lounge seating from OFM's Interplay collection and National Office Furniture's Fringe collection create a striking appearance while providing the type of comfort that employees naturally gravitate toward. By offering this laid back atmosphere, Grunau encourages its employees to come together, whether that be for work purposes or just to catch up.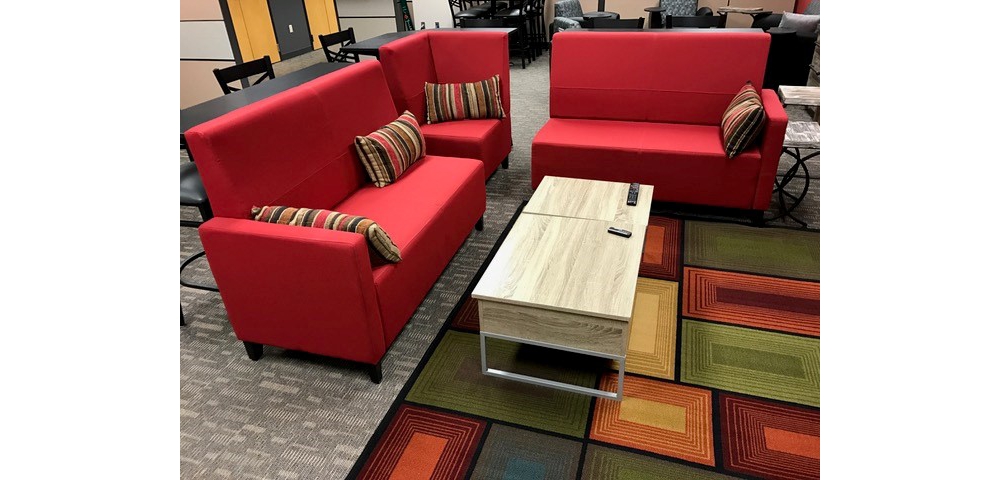 Sleek & Stylish
Of course, appearances are important to Grunau too, and they wanted to incorporate their company branding into this new space. This was accomplished by the use of neutral tones that have been artfully complemented by bright walls and furniture pieces in an exciting shade of Grunau red. Not only was the company able to incorporate their brand identity into the space via highlighting their company color, but they were also able to display their commitment to excellence in everything they do via furniture design that is streamlined and modern. In the end, Reedy was able to help Grunau come up with a furniture arrangement that made everyone happy. They wanted the space to look nice and be a functional area for employees, vendors and visitors.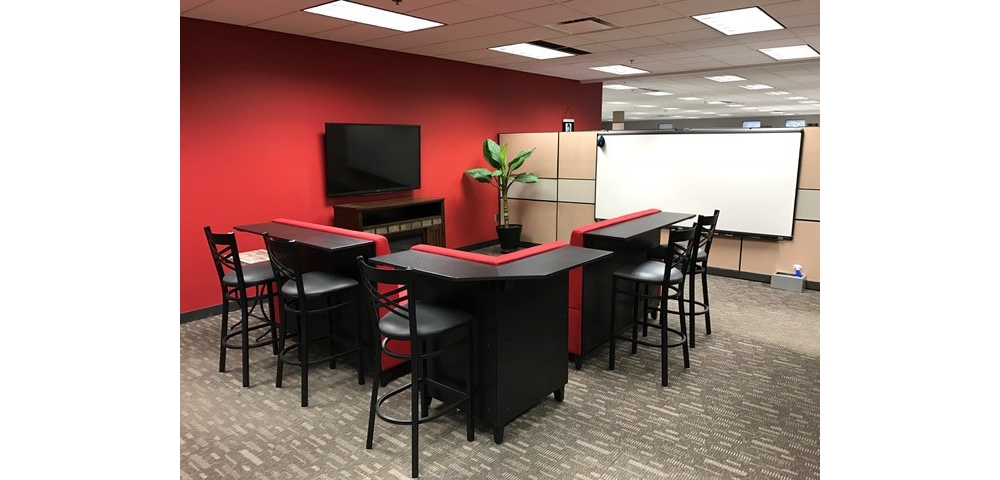 Affordable & Reliable
As important as style and functionality are, Grunau couldn't accomplish this redesign without sticking within their predetermined budget parameters. By incorporating attractive yet affordable furnishings such as stools from Premier Furniture and bar height tables from KFI, Reedy was able to bring this space to life at a fraction of the cost. Plus, despite their price tags, these furnishings are all commercial quality and built to last year after year.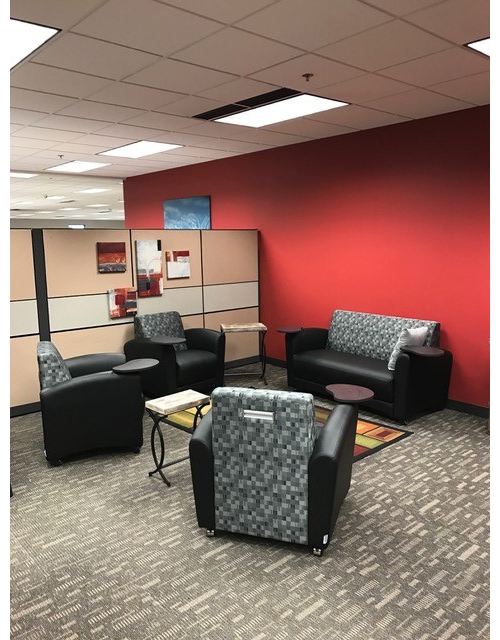 "Anna helped to narrow down the choices between fabrics, finishes and cost effective options to stick within our budget. We did a few revisions regarding quotes/drawings to best meet our needs with the room layout. Anna thoroughly explained the products and brought us fabric and finish samples to check out to help make the best color decisions for our new collaborative space."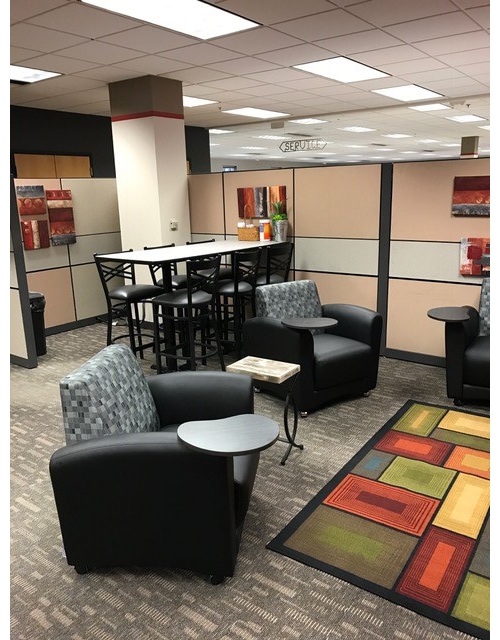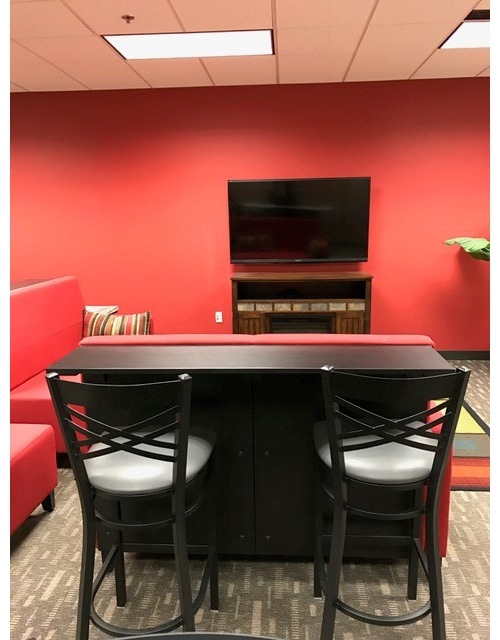 Want to share a tour of your office with us? Submit an office tour form and tell us what you love about your office for a chance to be featured on our website. Be sure to check out all of our office tours for inspiration!