Building a beautiful office is no small task. With employees spending a large portion of their time at work, creating a home away from home is an integral step in maintaining morale and inspiring great work. Designing your office décor with a theme in mind is an easy way to create a cohesive environment where employees can stay productive and comfortable while they go about their workflow. Take these fifteen professional office decor ideas into consideration while designing your perfect workspace!
1. Tie the Room Together
Simplify your office design process by establishing a theme from the get-go. Pull from your company's current branding, use an online generator to find the perfect palette, or search for inspiration using articles and blog posts. Find multiple schemes and styles that complement one another so that every room looks fresh and interesting.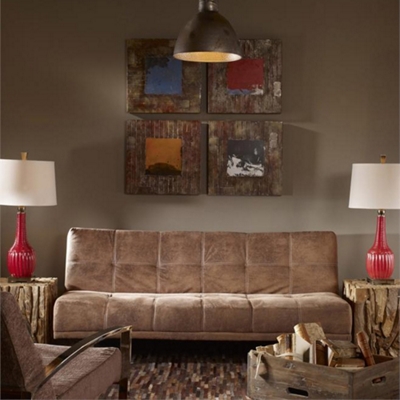 Check out our office decor section for even more ideas to tie your room or office together.
2. Draw the Eye
Draw the eye to something special by choosing a focal point for the room. Smaller spaces may benefit from a special painting or print. Tailor these choices to your industry or brand, if possible. For reception areas and community spaces, try to add a bit of local color by featuring scenes from your surrounding area.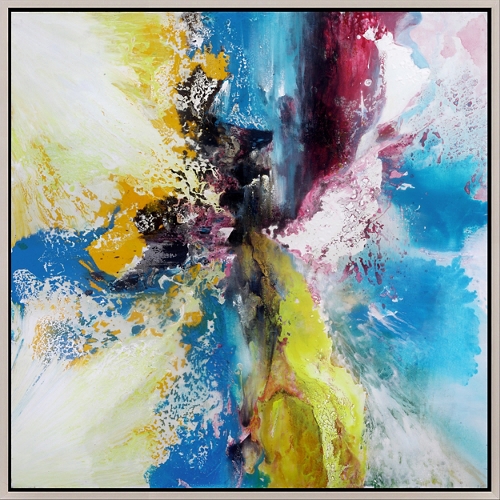 3. Feature Fabrics
When purchasing upholstered seating, be considerate of your fabric choices and how they relate to your office theme. Durable, high-traffic fabrics are often available in on-trend, stylish patterns that can stand up to rigorous use while looking great.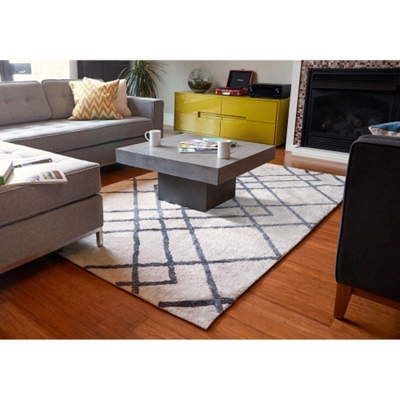 4. Don't Forget the Furniture
Office furniture has come a long way from the drab, cookie cutter desks of yesteryear. Seek out stylish pieces with updated laminate finishes, creative hardware, and interesting configurations. Durable construction from high-quality materials will help your pieces stand up to years of use in a commercial setting.
Browse office furniture here to help you outfit your business with the right type of furniture that fits both the size of your space and your brand.
5. Motivate Your Workplace
Uplift your employees and guests with motivational and inspirational pieces. While well-known quotes are always an option, consider commissioning a print that features your company's mission statement or goal. Vinyl decals are an inexpensive option for quick, easy-to-adjust reminder of why your company is a great place to work.
Find some great office motivation ideas on Pinterest here.
6. Go Green
Bring a little bit of the outside world to your office. Choose from plants that fit your décor but be sure to consider their maintenance needs, from constant watering to a finicky sun requirements, and select a plant that works within your capabilities. For low-light areas or no-fuss offices, an artificial plant is a great choice if you don't have a green thumb.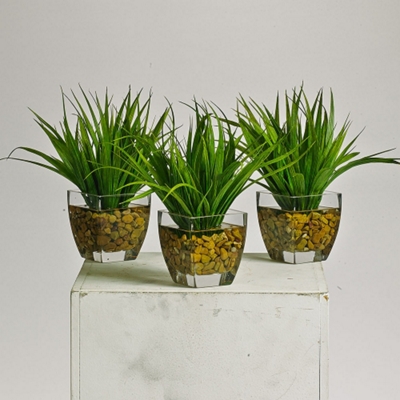 7. Take a Seat
Chairs come in all shapes and sizes, making it hard to figure out what sit is the best fit. Outfit team spaces with a variety of options that coordinate with your theme so that spaces don't look stale while employees can choose what works best for them. At their desks, provide a few options for employees to choose from so that everybody can find the right combination of ergonomics and style.
Browse all kinds of office chairs and seating here.
8. Set Some Boundaries
If your office features an open floorplan, build in some flexible privacy for employees. Dividers, both semi-permanent and mobile, can be added to wide-open areas to give your staff a bit of privacy while they work. Our complimentary space planning and design services are here to help you find a tailored solution while you set up your space.
9. Teamwork Makes the Dream Work
Touchdown spaces help take "bored" out of the boardroom and foster organic, off-the-cuff collaboration between team members. From simple group seating configurations all the way to tech-equipped open-air spaces, a workspace without borders is an easy update for an innovative office.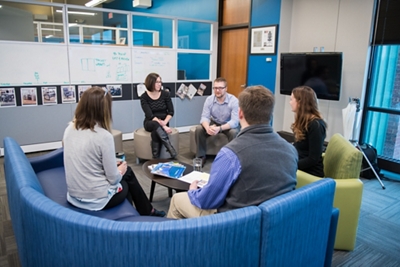 Get all kinds of collaborative furniture ideas here.
10. Clear the Clutter
Happiness in the workplace is a multi-faceted goal, but a recent study has shown that there are a few key components to keeping your staff smiling. Keeping clutter at bay is a must, with 62% of employees reporting that a messy space is a driver of workplace discomfort. Go for fun, inventive, or just plain cool-looking organizational tools and office supplies to add delight to the little details. Make it your mission to organize your organization with helpful tips from National Business Furniture's Clear the Clutter campaign
11. Set it Down
While seating is often at the forefront of design, it's easy to forget about tables. Choose a variety of coordinating pieces that can accommodate anything from a coffee cup to a laptop. Laminate tops are an ideal choice for a surface that won't stain or scuff. For a more multi-faceted option, seek out soft seating options, with certain pieces that can function as tables, ottomans, or stools.
12. Let Some Light In
Maximize access to windows, skylights, and other sources of natural light so that employees can share the happiness-boosting benefits of sunlight. When choosing artificial options for the rest of the space, look for daylight-mimicking bulbs and task lighting that doesn't carry the harsh feeling of fluorescent or LED lights.
13. Where Form Meets Function
Office storage goes beyond a few desk drawers and drab filing cabinets. Incorporate out-of-the-way options by adding a hutch to a desk or credenza to your conference room. Outfit employees' desks with mobile pedestals that double as extra seating or consider ottomans that include built-in storage beneath the lid.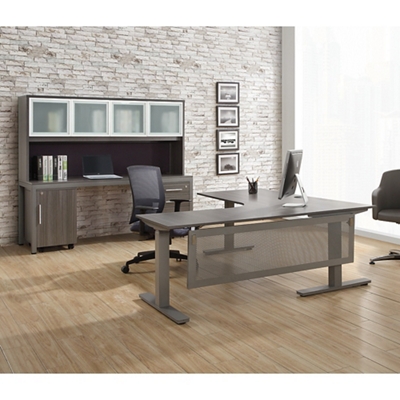 14. Make it Personal
Feature the fun side of your workplace culture with framed photos from employee outings, volunteer opportunities, and other inter-office activities. Remind employees of what makes your company a great place to work outside of the daily grind. Celebrate successes by displaying awards and accolades in a communal place where everybody can appreciate them.
Find products to show off your awards like display cabinets and open shelf bookcases.
15. Embrace Employees' Individuality
Allow employees to curate their spaces with personal items, such as photos of family or tokens from back home. While a cohesive theme is a powerful tool for making the whole office shine, straying from the norm helps your staff feel comfortable while they're spending long hours away from the people, places, and things that they love.
Need a little help getting started or are you looking for more inpiration or office decor ideas to jumpstart your next project? With a team of dedicated sales representatives located across the nation, National Business Furniture can help you kick off an office refresh or build-out that looks as great as it feels. Complementary space planning and design services can help you get started with building a space that works hard for you and your staff.