Industry: Insurance
Location: Havertown, PA
NBF Account Executive: Kevin Emery
NBF Furniture Collections Used: NBF Signature Series Collections Perspective, Harper, Statesman

Timeless Taste Meets Modern Design:
The John P. Meehan Insurance Agency
Located in Havertown, Pennsylvania, the John P. Meehan Insurance Agency underwent a drastic build-out of their home office. After a total overhaul of their property, they created a warm and welcoming space that mixes sleek, modern design elements with the hominess of natural wood and stone.
Given the nature of the insurance industry, the new office needed a mixture of public and private spaces that could accommodate independent work as well as meetings of various sizes. To maximize visual appeal, there is a sense of openness throughout the agency that requires a keen sense of coordination between architectural details and office furniture. Glass panels and doors, semi-private nooks, open doors, and open-air desking creates a diverse combination of workspaces to suit the various working and meeting needs.
Kevin Emery worked within a series of interior design aesthetics and built-in fixtures to provide a comprehensive, cohesive scheme of commercial seating and executive desking. The resulting workspaces are both timeless and trendy, coordinating with a taupe-driven palette accented with luxurious natural wood and stone.

"We had a wonderful experience working with Kevin at NBF. He was helpful, professional, and his customer service was truly exceptional. We had some questions on the conference room chairs, and he personally came out to address this with us personally, toolbox in hand. We will absolutely shop there for any future furniture needs."

Chairs for Everywhere
Excellent Everyday Seating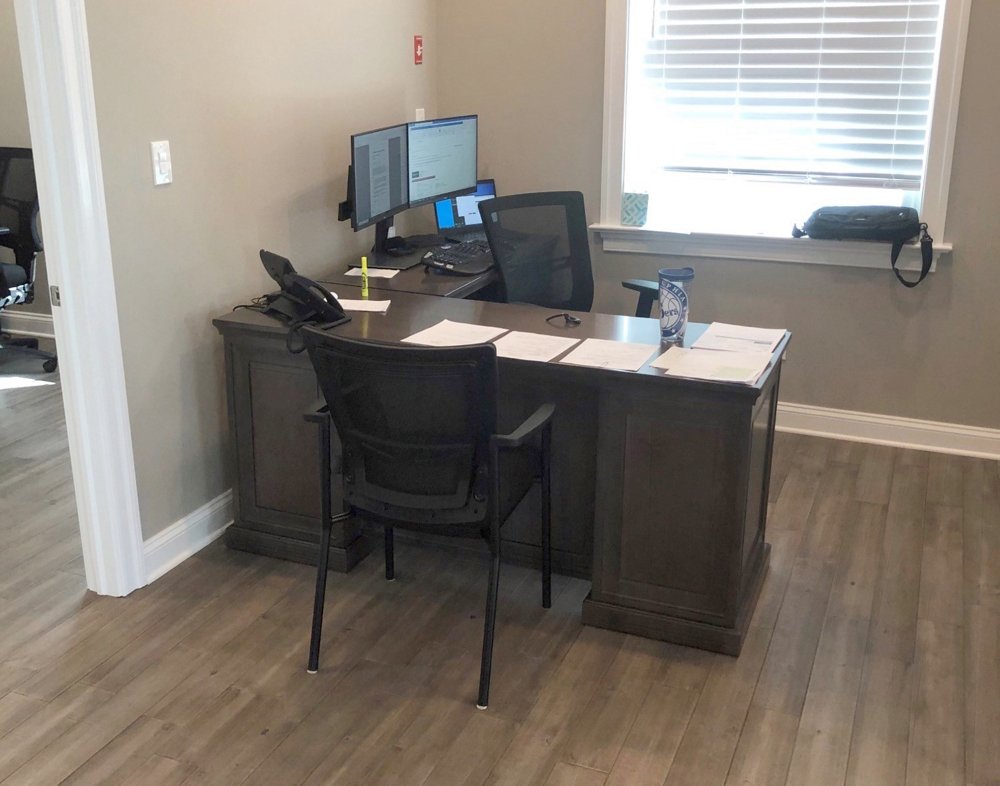 The Perspective collection was a clear choice for nearly every area, including the reception area as well as individual workspaces. Each desk was paired with a Mesh Mid-Back Chair that provides considerable comfort at an impressive price-point. Employees will experience all of the built-in ergonomic adjustments that these chairs have to offer along with the cooling properties of the mesh back. Seat and arm adjustments provide a custom fit for every size.
Across from most desks, a Perspective Mesh Back Guest Chair provides both coordinating style and client comfort. The same cooling mesh and padded seat feels as great as it looks while a durable, stacking steel frame ensures that these chairs are a great choice for the long-haul.
Standout Style for the Conference Room
A focal point of the agency, the John "JP" Meehan Memorial Conference Room is a stunning example of modern conference design. Ample natural light, thoughtful overhead fixtures, glass internal windows and doors, and a tech-ready setup continues the office's bright and airy aesthetic while columnar features and crown molding adds a touch of classic charm.
Eyes are instantly drawn to ten Harper Mid-Back Chairs situated around a spacious conference table. The Stratus finish in cleanable, antimicrobial polyurethane is a standout choice. Their chrome arms and bases are a visual highlight, creating a very modern moment in this executive-style meeting space.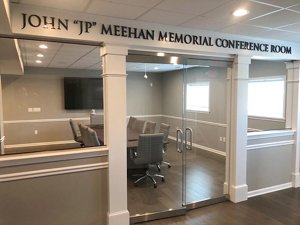 High-Profile Height-Adjustable Desking
Several private and semi-private workspaces prominently feature Statesman desking in the decidedly trendy gray laminate finish. Intricate picture frame detailing meets modern brushed nickel hardware to perfectly merge modern and traditional design tenets with an impressive silhouette. The L-shaped configuration provides a significant amount of personal workspace along with a reversable return that can accommodate client meetings, making for a perfect private or collaborative space.
Meeting the needs of modern ergonomics, the Meehan Agency chose to go with a fleet of Height-Adjustable L-Desks that accommodates perfect posture for any stature. Unlike many adjustable-height desks, this configuration has concealed actuators that give it a flush appearance when lowered, raising only part of the workspace to prevent from unnecessary jostling on the rest of the desk. Ample storage provides additional luxury, keeping important files and supplies right at hand.
Perfect Integration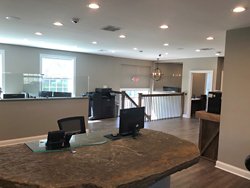 This build-out was clearly a very thoughtful investment for the Meehan Agency. Their architectural and interior design choices used premium materials and custom molding to create a luxurious yet comfortable employee-friendly and client-facing space. The Perspective, Harper, and Statesman collections were perfect additions to the physical space, blending seamlessly with existing fixtures and color choices. The efforts of Kevin Emery and National Business Furniture curated a series of commercial furniture pieces that will help the John P. Meehan Agency enjoy their space for years to come.
Looking to create your own impressive office space? Find your local representative and begin the design and purchasing process today.