One of the most frequently asked questions that NBF customers have is how to find chairs that will match the conference tables they want to buy. Unfortunately, most conference tables don't have matching conference chairs within their collection; however, there are workarounds that allow you to get a coordinating set. Here are some of the conference tables that we have to offer along with complementing chairs.
Lesro Conference Tables + Lesro Chairs. Most of Lesro's chair and table collections can be customized with the wood color of your choice. So, for example, even though there are no chairs in the Contemporary Collection, you can pair Contemporary Conference Tables with Contour Collection Chairs in the same wood color to get a coordinating look. Because the furniture is all coming from the same manufacturer, you know you'll get a perfect match!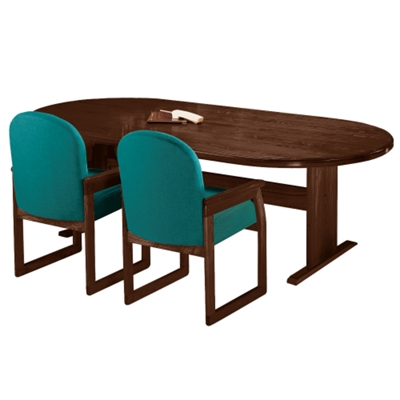 Office Star Sonoma Table + NBF Signature Series Work Smart Chair. The Dark Cherry veneer on the Sonoma tables is an exact match to the hardwood frame of the Work Smart Chair—no guesswork required!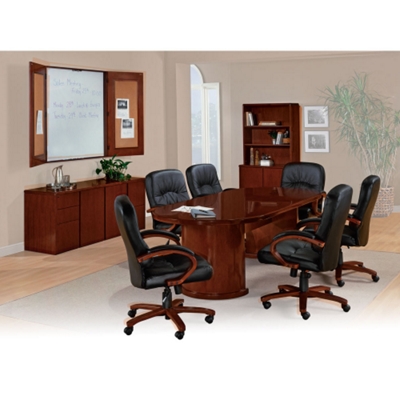 NBF Signature Series Extendable Tables in Deep Walnut + Kingston Chairs. This pairing isn't an exact match, but it comes pretty close. The Extendable Tables Collection in Deep Walnut very closely resembles the mahogany hardwood framework on the Kingston executive and guest chairs, so this is an excellent pairing if you're going for a rich, traditional look.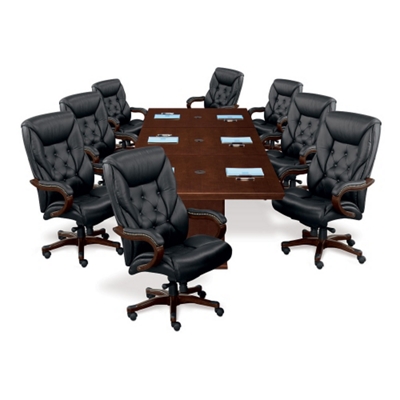 NBF Signature Series Plus Tables + Eurotech Europa Chairs. If you prefer something a bit more modern, try this combo on for size. There's no exact match here, but the gray laminate tops and silver tone bases of the Plus Conference Tables correlate well with the white and chrome design of the Europa chairs. With this pairing, you'll create a sleek and sophisticated look that will wow your guests.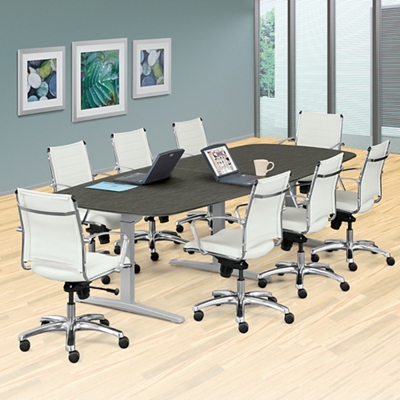 NBF Signature Series View Table + Metro Chairs. Another modern pairing, this set matches in the sense that the bases of the View tables and Metro chairs are both chrome and similarly shaped. Sometimes a little can go a long way, and matching up small features like this can prevent your office from looking too "matchy-matchy".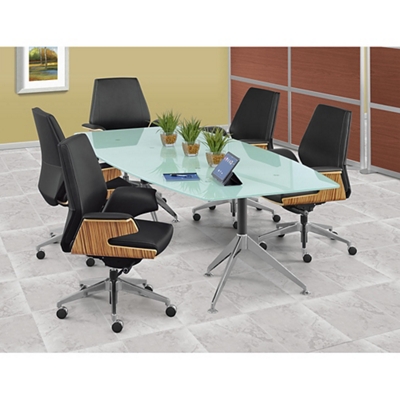 Need help finding meeting room tables and chairs that work? Call our friendly furniture experts today at (800) 558-1010 or shop our full assortment of conference furniture here.