Depending on the size of your front lobby and the type of business you're running, outfitting the waiting room can become an expensive task. You'll need a statement reception desk to use as the focal point in the room, occasional tables and décor to make the space feel professional and, of course, the right seating to keep your guests comfortable while they wait. Whether you're furnishing a large lobby or a little waiting area, here's how you can get the look you want in your reception area without busting your budget.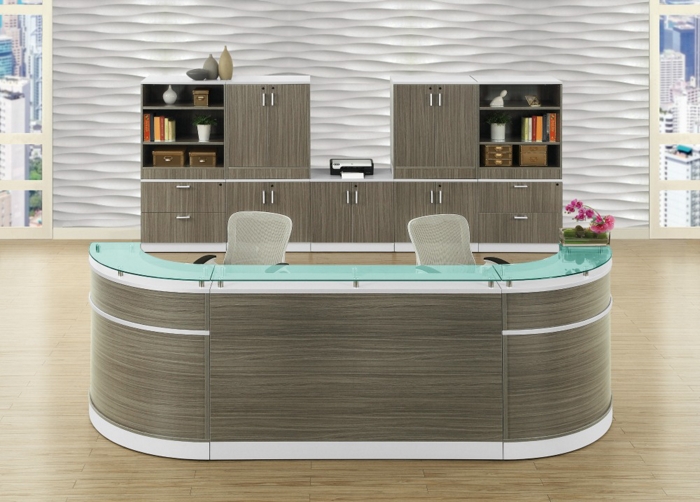 Built-In Look for Less
If it's a customized, built-in reception desk you're after, consider a statement desk that's a fraction of the cost of a true built-in. The Esquire collection offers reception desks in a multitude of configurations to fit your space, and each desk comes with a sleek laminate finish and a glass transaction top to create the appearance of a piece of large, custom furniture. Best of all? Even the largest version of our Esquire desk can be purchased for a fraction of the cost of custom-built receptionist desks.
Currently, the Esquire desks are available in two modern finishes—mahogany and driftwood, each with silver laminate accents. To complement this contemporary style, incorporate sleek, minimalist artwork and décor into your lobby, including canvas prints, real or faux flowers and abstract sculptures for bookshelves. We also recommend selecting waiting room seating that has a modern aesthetic, which can be achieved by selecting guest chairs with metal framework or large, cushy lounge seating.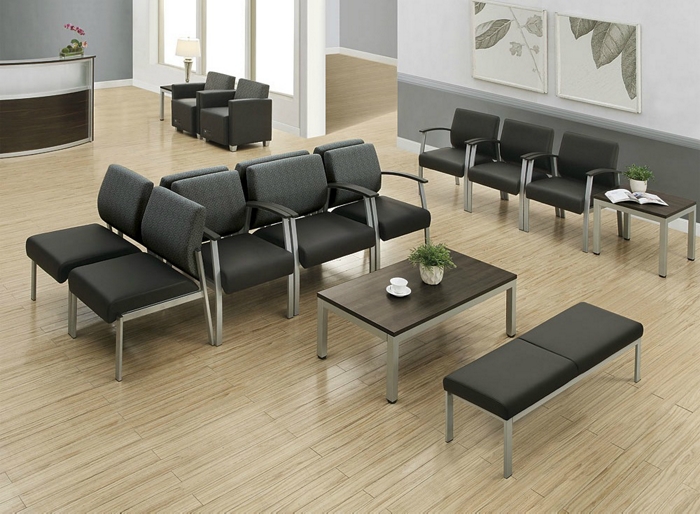 Complete Waiting Room Look for Less
You can have it all when you choose a waiting room collection that includes reception desks, guest chairs, lounge seating and occasional tables all with a matching look. Not only are all of the members of the Compass reception collection affordable, but they also make outfitting a waiting room as easy as can be. We recommend selecting the size and style of your reception desk first. The desk should be the focus of the room, and the size you end up choosing will greatly impact how much space is left to work with in the rest of the room. Compass desks are available in a wide assortment of sizes with or without glass panels and come in your choice of a stone walnut or dark walnut finish.
Once your desk has been selected, determine how much space you'll have for guest seating. The Compass collection offers a huge variety of reception seating options, including metal frame guest chairs and lounge chairs with built-in charging capabilities. Coffee and end tables are designed to match the reception desks in the collection, allowing you to incorporate a coordinating look through the waiting room.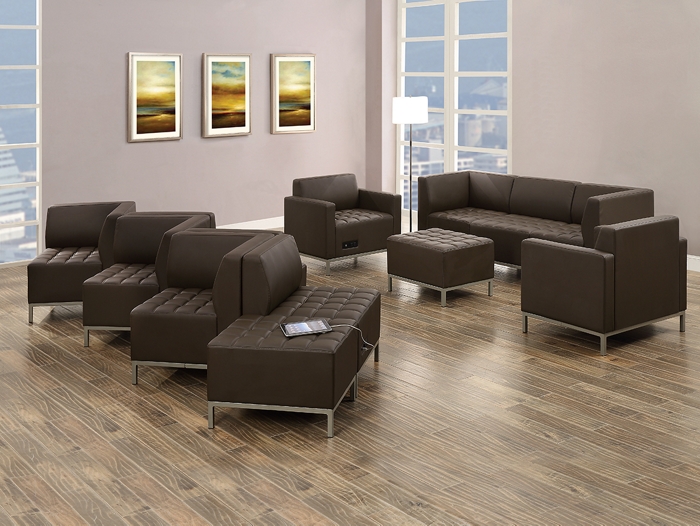 Modular Look for Less
It can be a challenge to determine just how much seating you'll need to adequately outfit your waiting room. Not only do you need to consider how many people you'll need to seat on average, but you'll also want to think about how much physical space is available as well as the changes your business will go through throughout the years. The solution? Affordable modular waiting room seating.
Chairs, sectionals and ottomans in the Traffic collection are designed to be used in a huge variety of configurations, meaning you'll be able to change up the layout of your waiting room by switching up the configuration as often as you'd like. From straight sofa-like configurations against a wall to zigzag patterns in the middle of the room, there's no end to what you can do with the Traffic collection. In additional to its modular design, Traffic seating features a sleek, modern look and built-in charging in the seats so that guests can stay plugged in while they wait.
For more tips on getting the look for less, read all of our waiting room articles and shop our full assortment of reception furniture here.