Imagine this-- you're at the foot of your driveway, standing before a horizon lined with only crumbled bricks and charred trees. Nothing blocks your view; everything has been reduced to rubble, and even the coals have grown cold in the time since a wildfire made its way through what was once home. Your thoughts, clouded and wild, are turned towards the loss of photographs, childhood relics, and keepsakes. This isn't the time to think about vital records or business incorporation documents, vehicle titles and property deeds-- that was before the fire, perhaps years ago, when you bought a FireKing® file cabinet.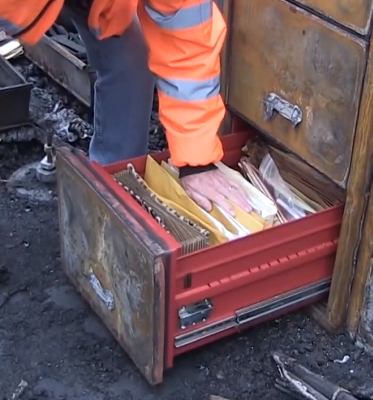 This isn't a dystopian fantasy-- this was the reality of those affected by the Northern California Firestorm of 2017, which left 44 dead and 8,900 structures destroyed, both residential and commercial. This was the reality of FireKing customer Brad Messer, who lived in one of eight counties ravaged by the fires. Thankful to have escaped with his life, Brad returned two weeks later to find his home destroyed but his most important records intact, secured in a fireproof filing cabinet. Passports, vehicle titles, cash, coins, and irreplaceable records were free from damage, and in the wake of a total loss he still calls that "one heck of a silver lining."
Going beyond fires of any kind, FireKing cabinets are designed to withstand high impact. When the floor burns and fails in a multi-story building, these storage and file cabinets have been rigorously tested to ensure that the impact does not weaken the materials or compromise their contents. Hurricane and tornado damaged caused by swirling debris and crumbling structures is no match for the durable construction and proven strength of FireKing cabinets.
In the wake of an F-5 tornado, customers Sande and Jimmy Johnson, along with their 18-year old son, were pulled from what remained of their home and in-home office. While the majority of their possessions--including vehicles, watercraft, storage buildings, and more--were a total loss, their most vital records were safe. An old family bible, irreplaceable jewelry, payroll records for their business, and birth certificates were unscathed. When no walls were left standing, the family was already on their way to rebuilding their livelihood with what they were able to contain inside of a four-drawer file cabinet.
After they have withstood the intense heat of a fire or radical impact of a drop, FireKing cabinets are covered by a lifetime warranty that provides a total replacement of the damaged unit. While we hope that lighting--metaphorical or literal--does not strike twice, we hope to provide piece-of-mind to every customer that has survived the unimaginable.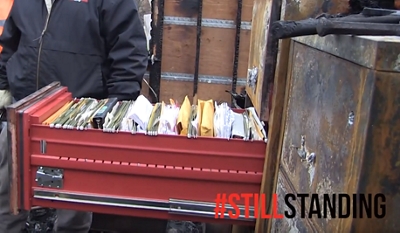 Endless tales of preservation have been relayed by FireKing customers, whose experiences are as unique as the contents of their cabinets. Carrying impressive Underwriter Laboratories (UL) ratings, a variety of rated storage and file cabinets are available to meet your needs during any number of unexpected disasters. Read more survivors' stories here, courtesy of FireKing.