How often do you find yourself seated at a rectangular table in a conference room, straining to see around the heads and chairs of your coworkers in order to view the same presentation or video conference as everyone else? There is a reason that the White House cabinet room doesn't include a table with 90 degree angles – the best way to give everybody a clear view is to provide a table that is designed in a shape fitted for its specific purpose. In this case, you don't need a rectangular table, you need a table with two sides that angle towards your focal point, allowing each and every attendee to clearly see the presenter or screen.
At National Business Furniture, we thought long and hard about this problem and decided to create a media table that solved this long-standing issue – our exclusive NBF Signature Series At Work media table. Working with our bestselling At Work line, we thought up a table that included just the right amount of angling to be both attractive enough for a traditional conference room, and functional enough to give each seated person a front-row seat to the technology being used for their meeting.

But what if you want to stand? With a trending preference towards tables and surfaces that are standing height or height adjustable, we knew that one standard height media table option wouldn't be enough to offer those looking for a complete solution. Enter our exclusive NBF Signature Series Eleve tables. A play on the French "élevé", meaning lifted or elevated, this collection combines the intuitive shape of non-rectangular media table with adjustable height capabilities.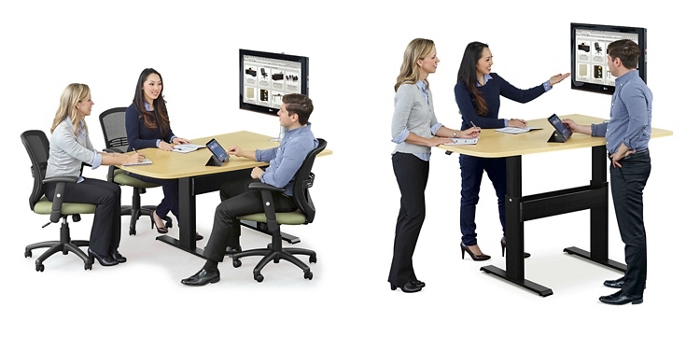 Finding solutions to everyday problems in the workplace is one aspect we pride ourselves on at National Business Furniture. With more and more exclusive NBF Signature Series lines being added every year, we are working hard to solve those office irritations with innovative designs and ideas. To view all of our exclusive office furniture collections, view our NBF Signature Series collection page.