Meet Medline—the largest privately held manufacturer of healthcare supplies in the United States since 1910. If you've been to a hospital or other type of healthcare facility in your lifetime, then chances are you've probably encountered some Medline products during your visit, and we at NBF are proud to partner with Medline to bring our healthcare customers some of the best medical furniture in the business. Below are just a few of the collections that we carry from this renowned healthcare furniture manufacturer.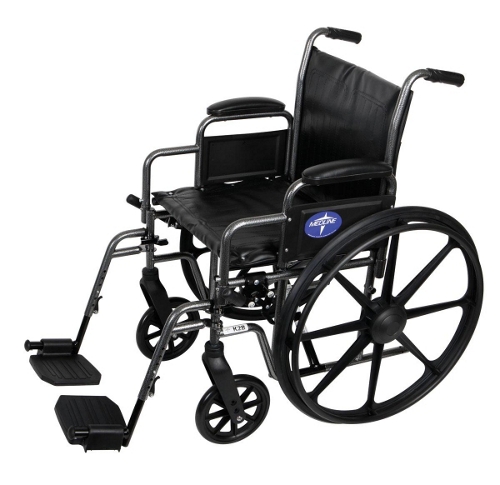 K2 Wheelchairs. Every hospital needs to stay well-stocked with wheelchairs, and the units in Medline's K2 collection are an ideal pick. Available in 16", 18" and 20" width options, these wheelchairs come with a myriad of special features that make them easy to operate and store in even the busiest hospital. Lightweight and durable, these wheelchairs have it all, and they're even upholstered in easy-to-clean vinyl for the wellbeing of both patients and staff. Footrests that swing in and out are great for getting patients into and out of a chair safely. Each wheelchair is latex-free and designed with a carbon steel frame topped with a rugged silver vein finish. Armrests are upholstered and well padded, making them comfortable enough for users to rest their arms on. A chart pocket on the back of the chair allows staff to carry medical records while transporting patients. Each wheelchair accommodates up to 300 pounds, and chair arms are removable so that users can easily get closer to desks and tables as needed.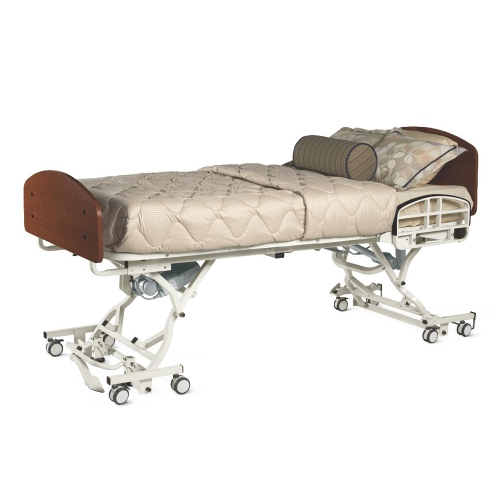 Alterra Bed Frames. The Alterra collection consists of bed frames and various components used to assist patients in utilizing Alterra hospital beds during their stay. Electric bed frames make it much easier for patients to get into and out of bed, and attachable bars and rails make the experience even safer and more convenient. Beds and accessories in this collection come in a range of styles, and they feature a smooth and silent operation that's needed for a peaceful stay. Users can even enjoy independent head and knee elevation for maximum comfort. These beds are also mobile, making it easy for staff to clean each bed as well as the surrounding areas. Metal framework and a secure central locking system keep each bed sturdy and stable regardless of the position it's in. Alterra beds meet FDA entrapment guidelines, making them ideal for use in nursing homes, assisted living facilities and hospices.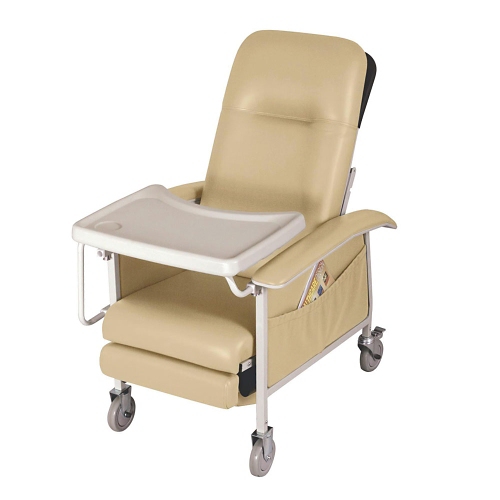 Comfort EZ Recliners. Available in a number of different sizes to suit different spaces and different people, the Comfort EZ recliners are designed to keep patients comfortable while keeping healthcare facilities safe and helping staff better perform their duties. Some models have a weight capacity of up to 300 pounds, while others can safely hold up to 500 pounds, ensuring that all of your patients can be made as comfortable as possible. Many models also come with an attached tray that can be moved out of the way when necessary.
Upholstered in latex-free vinyl, these recliners are constructed with steel components for extra durability. Large casters are all lockable, and the front casters are rigid, while the back casters swivel for easy portability. A built-in IV pole accommodates patients' individual needs, while a side pocket allows for the storage of reading materials and charts. The headrest has three positions and is built into the recliner. The soft density foam in the seat and back provides support and comfort while metal arm guards protect the upholstery against wear and tear. A three position lock bar locks the seat as needed.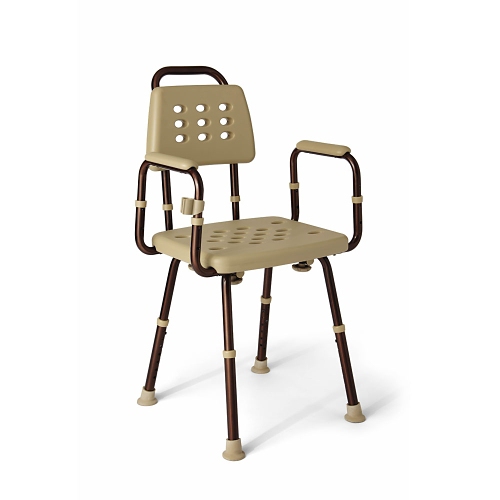 Elements Benches & Stools. The Elements collection is made up of stools and chairs that are often used not only in healthcare facilities but in home care as well. This collection includes a shower stool, a transfer bench, a shower chair and a bedside commode, all of which are easy to use in a home setting where special care is needed for those looking to gain more independence at home. All items in the collection are designed with multiple points of adjustment and made with a 350 pound weight capacity to support most users with limited mobility. Each member of the Elements collection is constructed with a bronze frame finish and a muted color scheme that helps living spaces look less institutionalized. The seat, backrest and arms on each item are all height adjustable, and the arms can be removed if extra room is required. Infused with Microban antimicrobial protection, furniture in this collection inhibits the growth of stain and odor causing bacteria to keep bathrooms as hygienic as possible. Lightweight enough to be moved easily without strain but durable enough to not break under pressure, these items require tool-free assembly and are a breeze to put together.
Need help finding medical furniture that works? Call our furniture experts at (800) 558-1010 or shop our full selection of healthcare furniture here.