Whether you're moving into a new office building or it's just time for a furniture upgrade, staying on top of the latest and greatest interior design trends will allow you to create the most productive workspace possible for you and your employees. Fortunately, we've done the research for you, and these are the ten trends we see making the most impact in office design for 2018.
1. Inspiring Workspaces & Common Areas
Kick your 1990's beige cubicles to the curb and bring a little life to your office. 2018 will see a surge in businesses striving to create offices that are more than just a box to work in. In fact, a recent study shows that 76% of adults between the ages of 18 and 34 and 55% between the ages of 35 to 54 say that office design and aesthetics influence their overall impression of a company. Women, those between the ages of 18 and 34, and adults living on the west coast of the United States are the most likely to be positively influenced by a brand's office design. Providing employees with beautiful common areas and workspaces will make the office feel a little less like work and a little more like home.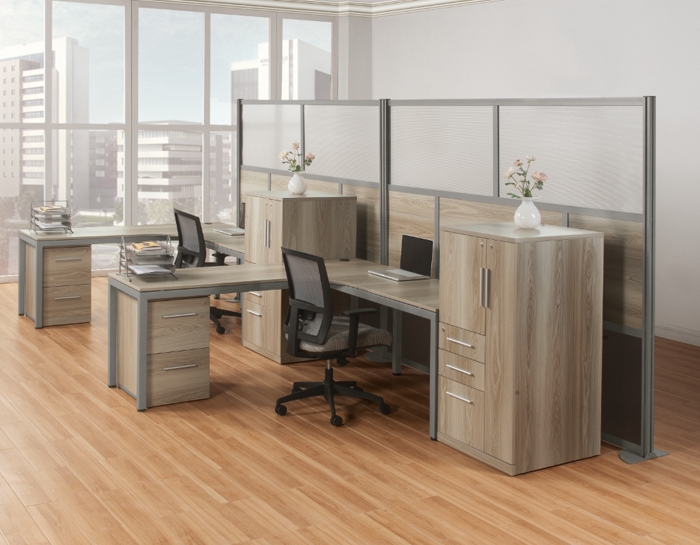 2. Adjustable Height Desks
Now is the time when everyone is doing his or her best to keep up with their new year's resolution to lead a healthier lifestyle. Given that we spend 40 or more hours per week at the office, it only makes sense to maintain that healthy lifestyle at work, too. To help combat the serious health issues that prolonged sitting can cause, it's recommended that office employees stand for 15 minutes for every one hour spent sitting. Adding adjustable height desks to every workstation will provide an easy way to incorporate a little exercise into everyone's work lives. Don't want to replace your old desks? No worries. Desktop risers like the NBF Signature Series Ascent riser are affordable solutions that can be placed right on top of your existing desk.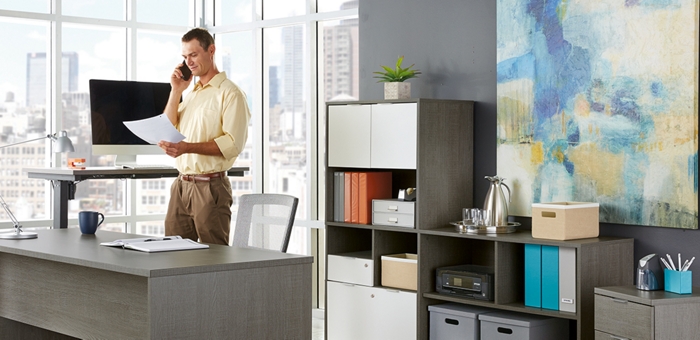 3. Active Seating
Another addition that can help employees stay active without leaving their desks is an active chair or leaning stool. Active seating, including perch stools and ball chairs, allows users to shift their weight while remaining in a seated position. This type of chair, especially when used in conjunction with an ergonomic office chair, is ideal for employees who want to burn off energy without having to stand for too long.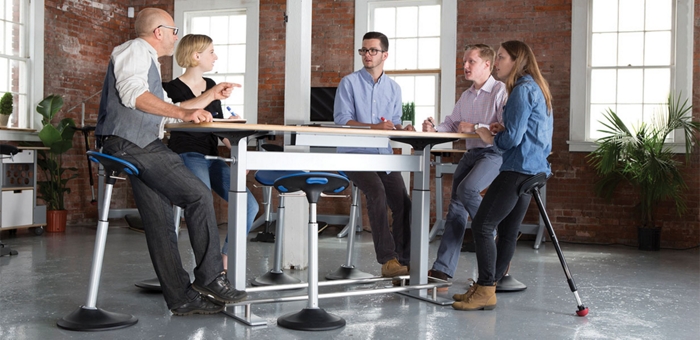 4. Collaborative Touchdown Spaces
One of the fastest growing trends over the last few years has been the addition of casual collaborative meeting spaces sprinkled around otherwise unused areas of the office. These small meeting hubs are typically made up of comfortable lounge furniture such as that found in our NBF Signature Series Touchdown collection and are used for on-the-fly get togethers between employees. These spaces are an excellent way to utilize open space in your office and provide a gathering area when all formal conference rooms are booked.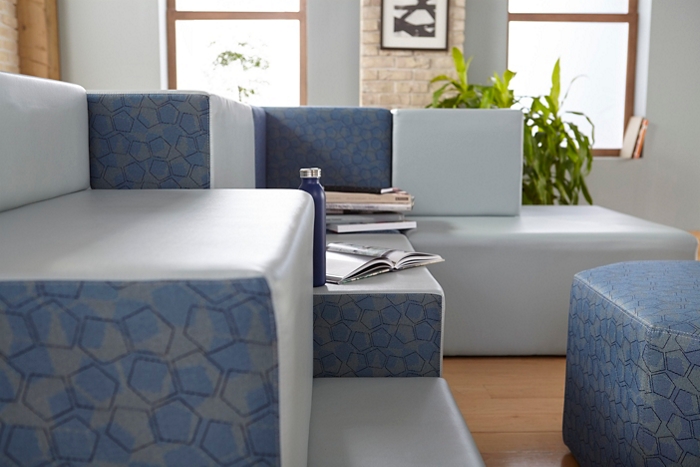 5. Modernized Breakrooms
The same study that looked at the impact that office design had on office employees also found that a staggering 70% of respondents who work in an office report wishing that their workplace would consider a redesign. Why? Old and outdated office furniture and décor can make a space feel dreary, resulting in a negative effect on employee morale. Aside from their workspace, your employees most likely spend the most amount of time in your office oasis—the breakroom. Creating a breakroom that's both beautiful and comfortable will enable your employees to fully relax and unwind during their breaks, leaving them refreshed and ready to get back to work.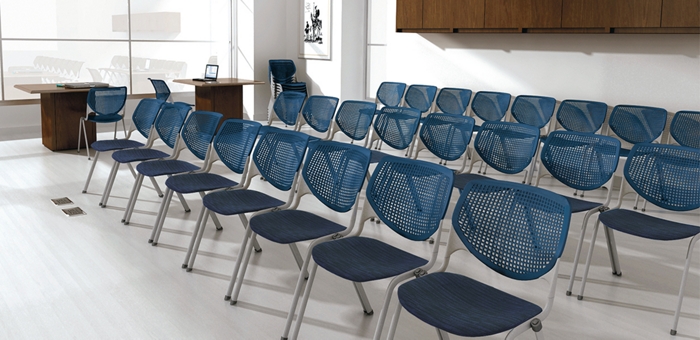 6. Adaptive Training Rooms
The training room is a place for learning and a place for collaboration. Hard-to-move tables and uncomfortable seating simply won't do. Instead, consider outfitting your training rooms with modular mobile training tables and seating that will be conducive to multiple hours of sitting. Tables like the ones in our NBF Signature Series Agile collection come in a huge range of sizes and shapes to allow for endless configurations. This plus the fact that they're mobile and adjustable in height means you'll be able to create any seating situation imaginable, which is ideal for a room with constantly changing needs. Read our tips for setting up a productive training room here.
7. Lounge-Like Waiting Areas
First impressions are everything, so shouldn't you treat your waiting room as such? When you outfit your lobby with waiting room furniture that's beautiful and comfortable, your guests will take notice. Whether you're looking to impress clients or attract future employees, incorporating cozy lounge seating that has a high-end, modern look is sure to do the trick. Explore furniture like our Encounter collection, which features modular seating and tables that allow you to create the exact look you want in your waiting area.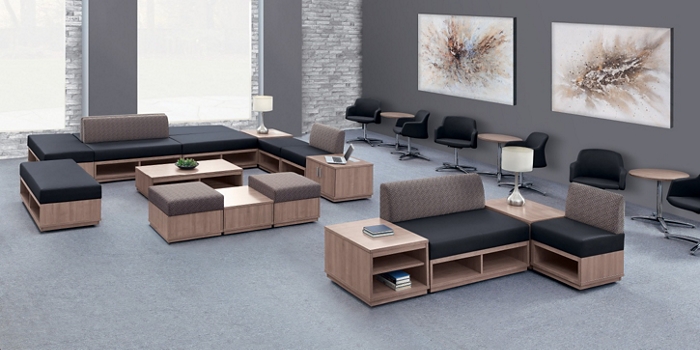 8. Outdoor Sitting Space
If your office has a yard to speak of, consider the addition of outdoor seating to the space. Outdoor lounge furniture is ideal for providing a space where employees can gather for quick meetings while enjoying what Mother Nature has to offer. Simple weatherproof dining tables and chairs also make an excellent addition, allowing employees to take their lunch outside to eat during their break.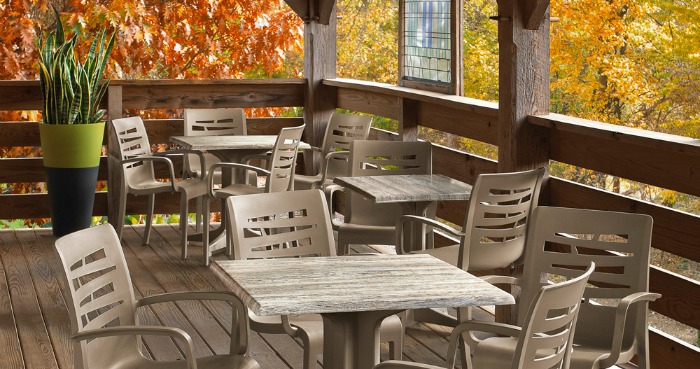 9. Quiet Work Areas
Not everyone thrives on open concept collaborative workspaces. In order to accommodate projects that require greater focus, be sure to add a designated quiet area to your office. This can be a small lounge, conference room or other unused area of the office. Just be sure to make it clear to all employees that the space is for quiet work only so that your employees who need the silence can take refuge in it when necessary.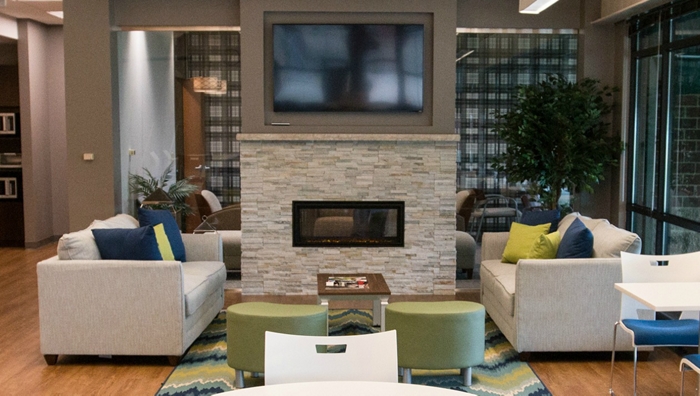 10. Movable Partitions and Room Dividers
In 2018, offices will see a privacy trend that's somewhere in between blocked-off cubicles and wide-open workstations. Mobile partitions and room dividers will instead be kept and used as modular room dividers when and where they're needed. Partitions such as the NBF Signature Series Division panels can be easily moved and zipped together and apart to create as little or as much privacy as is needed. Best of all, partitions are an affordable alternative to building new walls in the office.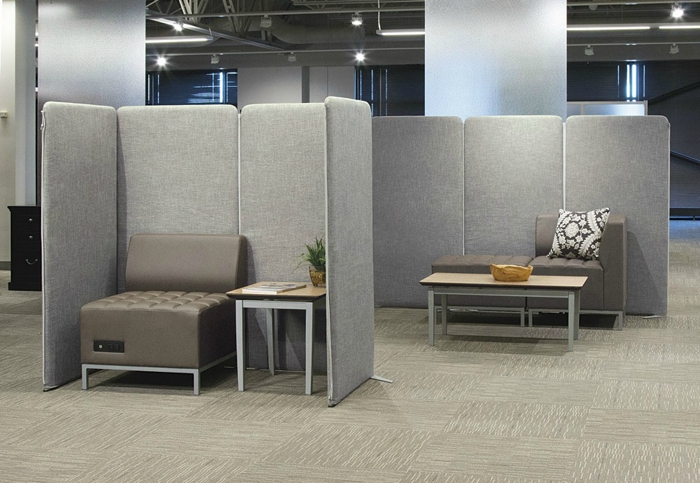 Do you agree with our list? Tell us the trends you're adding to your office in 2018 in the comments below, and be sure to check out our full assortment of new office furniture to see what else is on trend.